Fox News Guest Says $50 Million Not 'As Big As You Think,' Criticizes Warren 'Wealth Tax'
Fox News guest and bow-tie economist Peter Morici criticized Massachusetts Senator Elizabeth Warren's tax plan Monday morning, claiming that people with $50 million in assets are not wealthy and shouldn't be taxed.
Speaking with Fox & Friends co-host Steve Doocy on Monday, Morici railed against the unfairness of Warren's tax plan, which relies upon her so-called "wealth tax" proposal of 2 percent on people whose net worth is more than $50 million. Warren's campaign says public school funding and other basic American necessities would be funded by funneling in about $450 billion over the next decade as a result of the tax on people worth more than $50 million.
But Morici suggested that big time venture capitalists and "the people who give us companies like Apple" should not be subjected to such "absurd" tax rates proposed by the 2020 Democratic candidate.
"We're not just talking about wealthy people, we're talking about super duper wealthy people who have assets of more than $50 million, right?" Doocy asked Morici.
"Well...$50 million is big, but it's not as big as you think," Morici claimed.
"It's pretty big," Doocy replied with a chuckle.
"Yea, well, yea, well you wait and work for Fox News for long enough and you're 60 years old and you'll be surprised how much money you have," Morici added.
Warren's campaign envisions tuition-free public college education and erasing student loan debt through such a tax. And that share increases to 3 percent against people with a net worth of $1 billion or more, as the The Wall Street Journal first laid out Monday. Warren's plan overall calls for $2.75 trillion in wealth-tax revenue.
"For people with $100 million she wants it to be 3 percent," Morici continued about Warren's proposed tax plan, which her campaign promised in a weekend statement to soon release "exact details" about her Medicare-for-All funding plan. Morici argued that top corporate players and venture capitalists who help found companies view $50 million as a pithy amount of money.
"These are absurd rates. You have to remember these are the people who finance our startups, these are the people who give us companies like Amazon and Apple. They're the ones with the seed capital," he continued. "[Warren's campaign] acts like these people clip coupons, and they have bonds, and they hang out with the president and that's simply not true. They're very active people who are investing their money."
Morici was immediately subjected to ridicule on social media despite several people acknowledging his point about investors being extremely wealthy as valid.
"The guy had a legitimate point to make about venture capitalism and investment opportunities, but he muddled it with suggesting $50 million isn't a lot of money to live on," replied Bradley P. Moss, a Washington-based lawyer dealing with national security issues.
"It's a lot bigger than you think...in terms of the privilege," reads another top response to Morici's claim.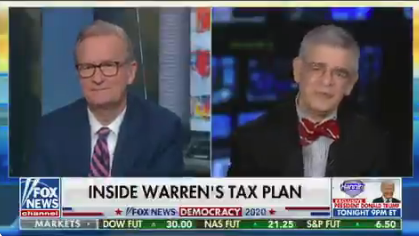 Fox News Guest Says $50 Million Not 'As Big As You Think,' Criticizes Warren 'Wealth Tax' | Business