Fox News Financial Expert Says Investors Don't Think China Trade Deal Coming 'Anytime Soon'
Fox News financial expert Charles Payne said on Tuesday that stock market investors don't expect President Donald Trump and China to reach a trade deal "anytime soon."
"When the smoke is clear, when there is a sense of calm, the market will react to what's really going on in our economy and also on the hope that eventually we'll get a deal," Payne, who hosts a show on Fox Business, said during a segment of the Fox News show America's Newsroom on Tuesday. "I don't think anyone actively invested in the stock market thinks a deals gonna happen anytime soon."
Payne also said that Trump made a "big mistake" on Friday when he said that he was ordering American companies to begin divesting from the Chinese market by bringing jobs and factories back to the U.S. After Trump tweeted out the threat, global markets dipped significantly in response, as it appeared trade tensions between Washington and Beijing were set to worsen further.
Despite the grim reaction of the stock market, the Trump administration doubled down on the warning over the weekend, arguing that the president had the legal authority to make such a demand through the 1977 International Emergency Economic Powers Act. On the phone Monday morning in France, Trump claimed that his administration had very positive phone communication with the Chinese, saying it appeared a new trade deal was closer than before. Although it's unclear whether that communication actually took place, with some Chinese officials claiming it did not, markets have rebounded.
"I have not heard of this situation regarding the two calls that the U.S. [president] mentioned in the weekend," Chinese Foreign Ministry spokesman Geng Shuang said during a Tuesday press conference.
"Regretfully, the U.S. has further increased the tax rate on China's exports to the U.S. This extreme pressure is purely harmful to both sides and not constructive at all," Shuang added.
The comments from Shuang directly contradicted Trump's remarks to reporters on Monday.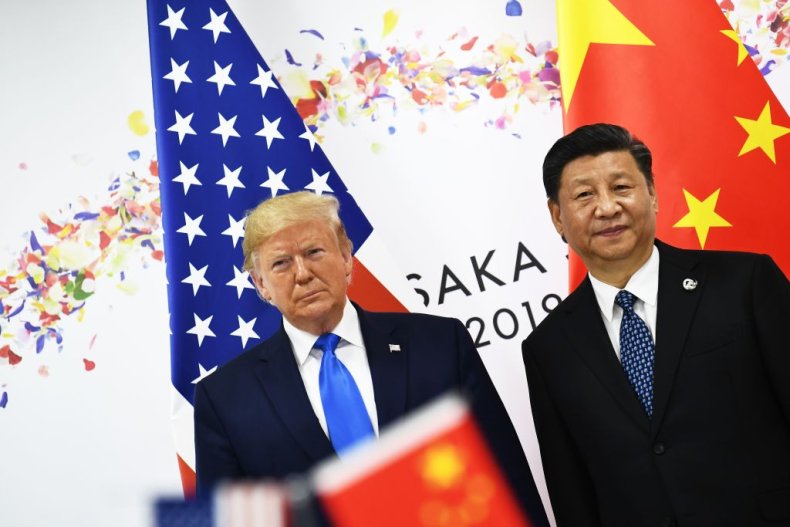 "They want to make a deal," the president insisted. "That's a great thing," he added, claiming U.S. officials had spoken to the Chinese at the "highest levels" on Sunday. He later described China's President Xi Jinping as "a great leader," claiming the Chinese president wanted "to do something very, very badly" in regards to trade.
"We are probably in a much better position now than any time in the negotiations," Trump claimed.
But China's state-run news organization Xinhua insisted on Tuesday that Beijing "did not and will not surrender."
"Playing the old tricks of bullying and maximum pressure, the U.S. administration has escalated the trade tensions repeatedly and tried to coerce China into accepting its irrational demands," commentary by the media outlet said.