Fox News Expert: Trump Reacting 'In Anger' to China and Fed Chair 'Unsettled' Stock Markets
Financial expert Charles Payne claimed Monday on Fox News that the stock market dropped last week due to President Donald Trump reacting "in anger" to China's President Xi Jinping and Federal Reserve chairman Jerome Powell.
Payne, who hosts his own show on Fox Business, said during a segment on America's Newsroom that Trump "scared the heck out of Wall Street, scared the heck out of the business community" by tweeting that he was ordering U.S. businesses to sever their ties with China.
Payne claimed that it was the White House arguing it had the power to make such a demand that led to stock futures plummeting "overnight."
"We were bracing for the worst," he said. "You know, I think President Trump reacted in anger toward China and Powell on Friday and that unsettled the market." However, Payne suggested that the trade war with China alone wasn't the cause of investor concern, pointing out it has been ongoing for over a year.
He argued that Trump's threats and concern over the trade tensions escalating had rattled the markets.
Despite last week's instability, the markets rebounded on Monday morning after Trump declared that trade talks with China were set to resume.
"I have great respect for the fact that China called, they want to make a deal," the president said at the G7 summit in Biarritz, France. "This is the first time I've seen them where they really do want to make a deal, and I think that's a very positive step," he added. Trump also referred to Xi as a "great leader."
However, some doubt has been cast on the veracity of the president's claim. "I haven't heard about this," said Chinese Foreign Ministry spokesperson Geng Shuang when asked about the call, according to NBC News. (Some traders on Wall Street also told CNN they were skeptical the call actually took place.) Nonetheless, the Dow rose more than 200 points and the the S&P 500 gained 23 points, while the Nasdaq Composite Index jumped 74 points.
The ongoing trade war between Beijing and Washington began last summer, when President Trump announced tariffs would be imposed on billions of dollars of Chinese imports. China responded in kind, adding tariffs to American goods and taking other retaliatory steps. Although there have been a series of trade talks between top Chinese and American negotiators, as well as face-to-face discussions between Xi and Trump, the trade battle has continued to escalate.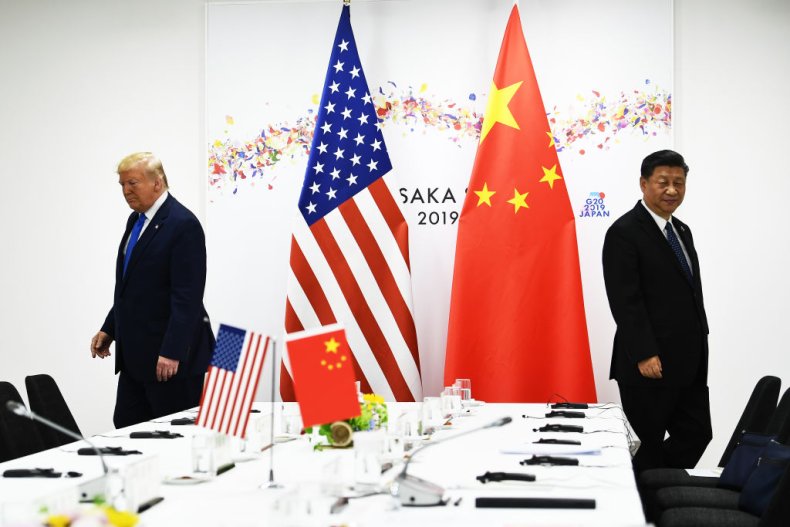 On Friday, China increased tariffs on some $75 billion of U.S. imports. In response, Trump tweeted: "Our great American companies are hereby ordered to immediately start looking for an alternative to China, including bringing your companies HOME and making your products in the USA. I will be responding to China's Tariffs this afternoon."
In another tweet, Trump referred to both Xi and the Federal Reserve chair as enemies.
"My only question is, who is our bigger enemy, Jay Powell or Chairman Xi?" the president asked. Trump has repeatedly attacked Powell, who he himself nominated, for not dropping interest rates further, blaming him for dips in the stock market.
Although many have questioned the rationale and legality of such an order, the White House has insisted that the president has the legal authority to make such demand under the 1977 International Emergency Economic Powers Act. If the president were to double-down on the demand, he would almost certainly face significant backlash and numerous court challenges.