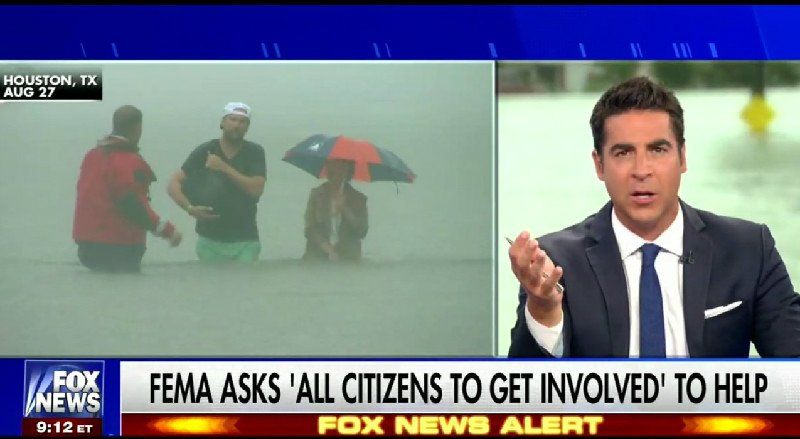 Updated | The internet has a beautiful knack for finding notes of levity in even the darkest of situations. If it can trick a fool or two into believing the unbelievable, bringing humor to moments of crisis, that's even better.
A viral hoax of a Photoshopped shark swimming in a flooded Houston highway hit by the devastating Hurricane Harvey made waves Monday afternoon, when countless Twitter users and folks scrolling through their Instagram feeds were shocked by the force of Mother Nature. By Monday night, the internet had dispelled the myth that a live shark was floating among driving cars escaping the storm, even discovering that the hoax was the same one used in the aftermath of Hurricane Katrina. But that development went unnoticed by the good people at Fox News.
Related: Fox News was attacking Barack Obama for using Dijon mustard at this point in his presidency
Jesse Watters, co-host of The Five and a regular Fox News personality, was convinced there were "some really weird biblical things" happening after the Category 4 hurricane made landfall in Texas Friday night, before tapering off to a tropical storm and leaving floods and destruction in its path. That included the fake swimming shark, among other unconfirmed reports spreading across the web.
"I've seen some amazing things out there, just watching television," Watters said. "Alligators on people's backdoor steps. I saw a shark on a highway swimming in the water."
"Like Sharknado!" co-host Kimberly Guilfoyle exclaimed, referring to the apocalyptic comedy-horror film in which sharks swim through flooded city streets. "Like Sharknado," Watters echoed.
"I saw a hawk sitting in someone's taxi cab," he continued. "You know, there's some really weird biblical things that are going on down there in Houston. I can't imagine how I would be experiencing that as a guy from the northeast, but I think Texas has it figured out."
Fox News may not have been trying to exaggerate the seriousness of the ordeal that millions of Texans are enduring this week, as a reported 30,000 residents flock to local shelters. But Watters's comments do have the ability to mislead the public. For a program that bills itself as a news show, to not take the extra step in verifying its claims to millions of live viewers is troubling, to say the least, and adds to the anti-media sentiment President Donald Trump employs when he rails against outlets like CNN and The New York Times for purveying "fake news."
By Tuesday, Watters apologized to viewers over Twitter.
Fox News, on the other hand, gets a presidential pardon—even though it's been one of the biggest proponents of fake news and misinformation in Trump's America. The network began early, suggesting that Hillary Clinton was in poor health after losing to Trump in the 2016 election and analyzing her "coughing fit" during a commencement speech at her alma mater. It's also helped push a fake news story about a staffer of the Democratic National Committee who was killed in a botched robbery, claiming he may have been leaking information damaging to the party before being murdered by the "deep state."
Despite all this, Fox News remains the most-watched cable news outlet across the United States, according to the latest quarterly ratings this year.
Update: This story has been updated with tweet reactions from Jesse Watters.