Conservatives Say Rainbow Flags Are Just as Oppressive as Confederate Statues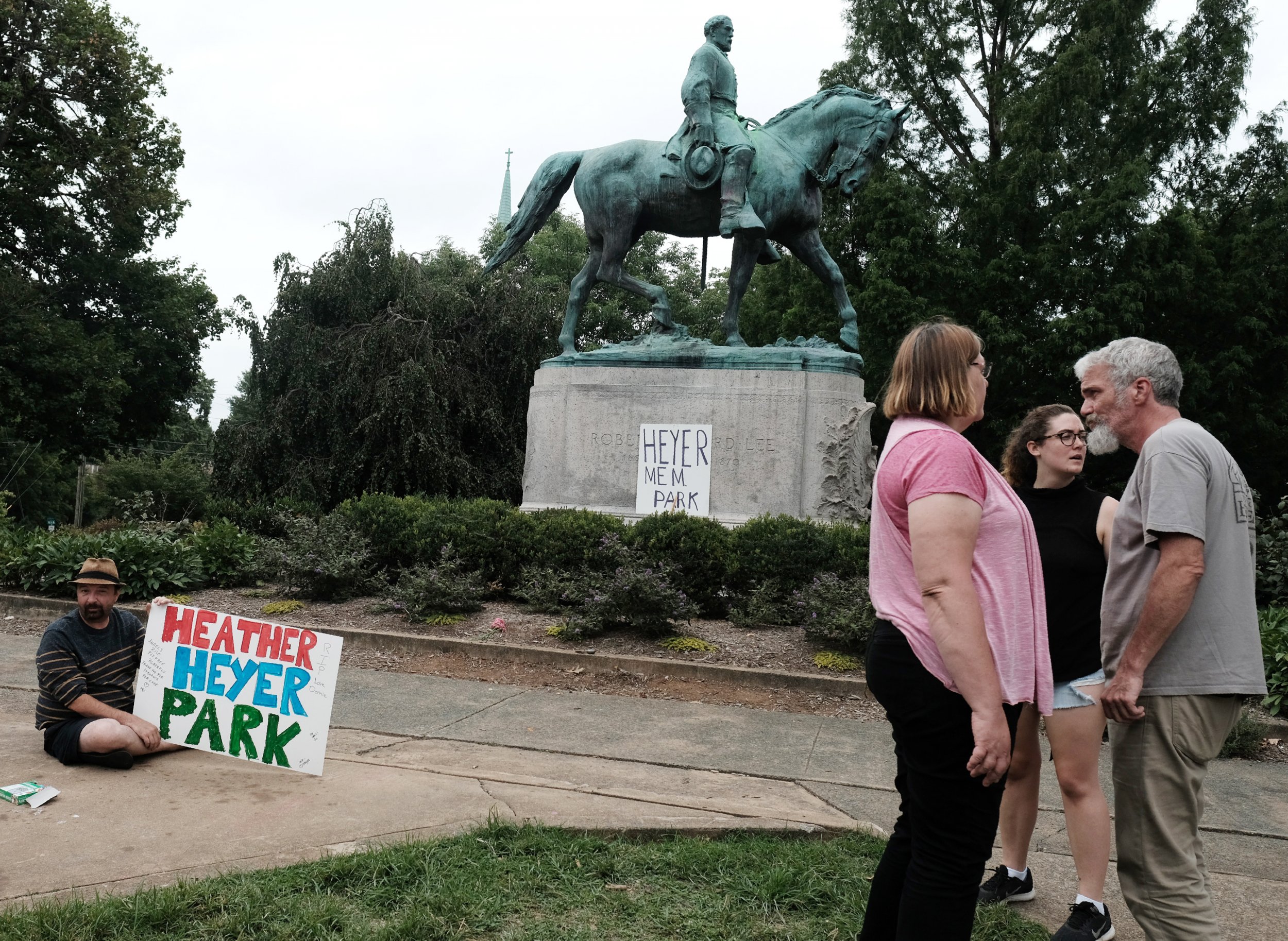 False equivalence is as rampant a concept in political discourse in 2017 as fake news and alternative facts. To see all three presented in real time, Americans often need not look further than Fox News.
The right-wing network has deflected several times from the violence at a white supremacist rally in Charlottesville, Virginia, Saturday. where neo-Nazis clashed with counter-protesters and one man drove a car through a crowd, killing 32-year-old activist Heather Heyer.
Related: Fox News blames the media, not Nazis, for Charlottesville and white supremacy
After blaming the mainstream media on Monday for the clash between the alt-right and anti-fascist groups rejecting hate and intolerance, Fox & Friends spent Tuesday morning decrying House Minority Leader Nancy Pelosi for her criticisms of President Donald Trump's statement in the wake of the "Unite the Right" rallies.
Somehow, that conversation led to Fox News contributor Star Parker calling LGBT Pride flags just as oppressive and exclusionary as the Confederate paraphernalia facing removal in Virginia and elsewhere.
"Nancy Pelosi is exploiting an opportunity that they think will play to their side," Parker told Fox News host Steve Doocy Tuesday. "But you know what's really interesting and really incredible irony here is the same people that are demanding that the Confederate flag comes down are the same people that are insisting that the rainbow flag goes up."
White supremacist groups organized the weekend's rallies over a month in advance, calling on their members to flock to Virginia as a show of force against the removal of the statue depicting the pro-slavery Confederate's top general, Robert E. Lee. The district voted in February to take down the controversial statue after efforts of a city councilor were backed up by a petition by high school student Zyahna Bryant directly to the City Council, stating: "My peers and I feel strongly about the removal of the statue because it makes us feel uncomfortable and it is very offensive."
Parker's comments comparing the flags' symbolism were met with immediate backlash across social media.
The Virginia statue's removal arrives at a time of self-reckoning for the United States: as hate crimes rates continue to increase and the alt-right breaks ground on college campuses nationwide, progressive groups, lawmakers and ordinary Americans are calling for peaceful protests and tolerance, as more mayors gear up to take down Confederate statues across the country.
But in some conservatives' opinions, rainbow flags are seemingly just as exclusionary as Confederate flags and statues honoring those who fought to keep black people enslaved and America a white nationalist union.
"These two flags represent the exact same thing—that certain people, groups, are not welcome here," Parker continued. "So if Nancy Pelosi wants to say that we're going to start shutting down First Amendment rights of a certain group of people, then what happens the next time that the homosexuals want to walk through an American city and protest and counter-protesters come out?"