Fox News' Greg Gutfeld Claims Trump's Impeachment Has Made Him More 'Effective,' Says He Could 'Probably Cure the Coronavirus'
On the Fox News program The Five Wednesday, host Greg Gutfeld said the impeachment proceedings have made President Donald Trump "the most effective president in our lifetimes."
Gutfeld also said the impeachment effort "really revs up" the president and that "he'll probably cure the coronavirus."
"It seems impeachment really revs up an already competitive president," Gutfeld said. "You try to bring him down and he just does more. If you keep at this, he'll probably cure the coronavirus and make China pay for it."
"I think you would agree that with the trade deals, the peace plans, the dead terrorists, impeachment has made Trump the most effective president in our lifetimes," Gutfeld added.
Newsweek reached out to Fox News for comment but did not receive a response in time for publication.
Trump has made repeated references to advances in medical research during his campaign, speaking of curing diseases at his campaign rallies.
"We will achieve new breakthroughs in science and medicine, finding new cures for childhood cancer and ending the AIDS epidemic," Trump said at a Tuesday rally in New Jersey. "Can you believe this in America, in 10 years or less? We've already started the process that could have been started sooner by the past administration."
"They chose not to do it," Trump added. "I chose to do it."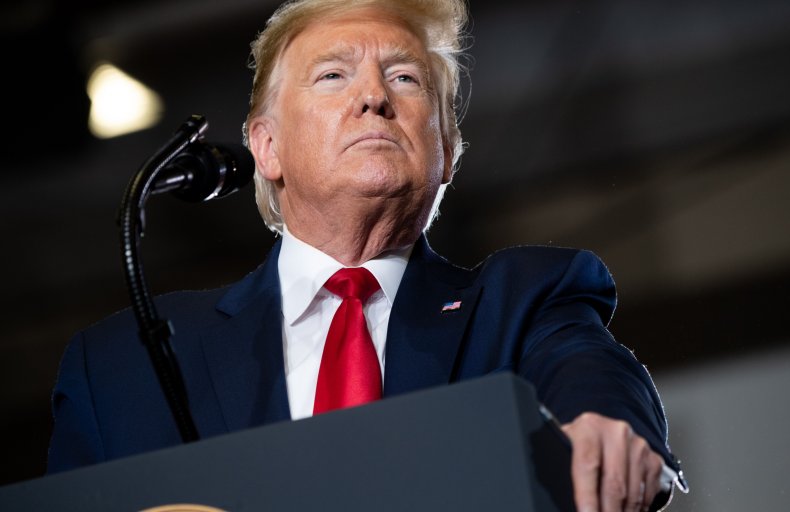 Coronavirus has made minimal inroads into the U.S. according to information from the Centers for Disease Control (CDC). As of Wednesday, four states have confirmed positive cases of coronavirus while 92 cases are pending verification.
Health and Human Services Secretary Alex Azar said in a January press conference that there are no plans to declare the coronavirus outbreak a public health emergency and that Americans are at low risk for contracting the virus.
Wednesday, 195 American evacuees from Wuhan, China—where the recent coronavirus is believed to have originated—landed at March Air Reserve Base in California. Passengers consented to a voluntary three-day long quarantine at the base where they will be monitored for signs of infection. If results from medical testing come back negative, the Americans are expected to be allowed to return their homes. Monitoring of the passengers is expected to continue for the entire viral incubation period of 14 days.
Coronavirus is similar to Severe Acute Respiratory Syndrome (SARS) which killed 774 people during an outbreak in 2003. It presents with symptoms similar to pneumonia but those infected may show only mild symptoms or no signs of the virus at all making early detection of coronavirus more difficult.
In China, at least 170 deaths have been attributed to infection by the coronavirus. According to NPR, over a dozen cities have been placed under quarantine by authorities. Travel within Wuhan by vehicle has been restricted.
Some airlines, including American Airlines, British Airways and Air Canada, have suspended or reduced the number of their scheduled flights to China to help prevent the international spread of the virus.
Because of travel for the Chinese Lunar New Year holiday, approximately 5 million residents made it out of Wuhan before the quarantine was enacted, according to Wuhan mayor Zhou Xianwang.