Fox News Guest Confronts Anchor Live on Air: 'Why the Hell Does Tucker Carlson Still Have a Job Here?'
When Democratic National Committee Vice Chairman Michael Blake appeared on Fox News today, co-anchor Bill Hemmer asked Blake what he thought of Tucker Carlson's theory that Michelle Obama would run for president in 2020. Carlson posited on his show, Tucker Carlson Tonight, that Michelle Obama's potential candidacy was the reason Barack Obama had not given current Democratic candidate and former vice president Joe Biden his endorsement.
Hemmer asked Blake if he would like to see the former first lady campaign for the presidency, but Blake had a question of his own for Hemmer.
"Well, she is not running but the core question is why the hell does Tucker Carlson still have a job here in the first place?" Blake asked. "The reality is this is someone who said white supremacy is a hoax and why does Fox allow him to still be here in the first place?"
"Alright, well I mean his opinion there was that Michelle Obama may get in this race," Hemmer pressed. "Do you think that will happen or is it not going to not?"
"Not going to happen," Blake replied, "but I think the core question is he shouldn't be on here at all."
"I got it," Hemmer said as he attempted to rein the interview in. "We didn't bring you on to talk about Tucker Carlson. I brought you on to talk about the Democratic field."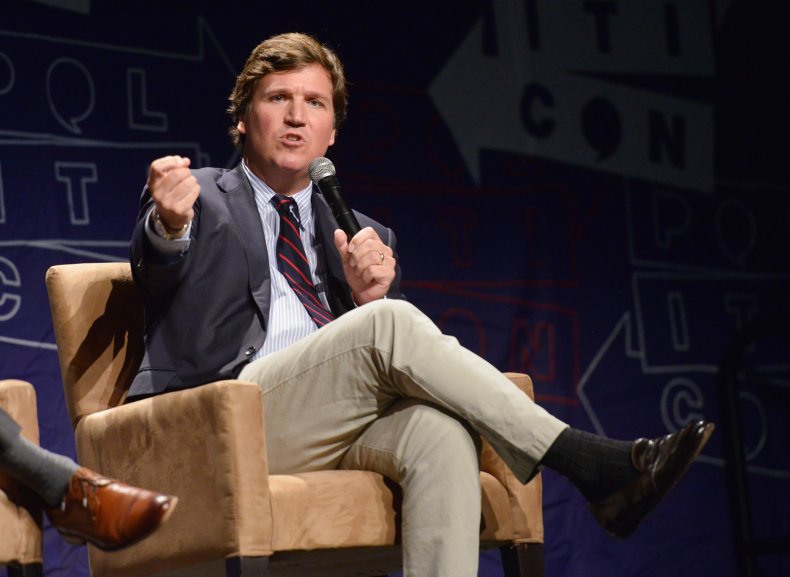 Blake brought Fox News back into the conversation after Hemmer said he believed the Democrats were having a difficult time finding a moderate choice for president.
"Regardless of the number of candidates in the field," Blake said, "we're talking about jobs while Trump is ignoring the truth. We're talking about healthcare while he's ignoring the truth. And the question must be, for Donald Trump, for Fox News, for other entities...."
"Listen," Hemmer interrupted. "I didn't bring you on to bash our network. So with all due respect, why don't we just keep it on topic?"
Concerning Michelle Obama, Carlson also noted Obama adviser David Axelrod's "scorched earth" campaign against Biden and the fact that Barack Obama's presidential memoir is slated to be released during the Democratic primaries.
"In other words," Carlson said, "at exactly the moments when Democrats will be thinking deeply about how to beat Donald Trump, America will be talking about the Obamas. Coincidence? Maybe it is."
Carlson's incendiary statements on white supremacy from August which Blake referred to in his opening comments brought Carlson criticism from a number of areas. Carlson downplayed the prevalence of white supremacy in the U.S. by saying it was "actually not a real problem in America."
"This is a country where the average person is getting poorer," Carlson said, "where the suicide rate is spiking. 'White supremacy. That's the problem.' It is a hoax. Just like the Russia hoax."
"It's a conspiracy theory used to divide the country and keep a hold on power," Carlson concluded.