Fox News Guest, Florida Sheriff, Claims Marijuana is 'Ruining Families and Killing People Every Day'
Florida sheriff Grady Judd appeared on Fox News Monday to declare that marijuana has been "ruining families and killing people every day across the United States," without offering any evidence.
During Fox & Friends on Monday morning, co-host Brian Kilmeade launched an attack on weed after airing a story about a 12-year-old Florida child who reportedly gave students at Mulburry Middle School THC-infused gummies. The incident resulted in the hospitalization of at least five students suffering from stomach pain, dizziness, nausea and other symptoms.
"Sheriff, there's so many states that are considering [legalization], whether it's medical marijuana or medical marijuana, this is a warning signal. What is your warning?" Kilmeade asked.
"I'm not a prophet or crystal ball, but I've been telling people in the state of Florida for years, whenever you take a substance like marijuana, and you put the THC into gummies, it's going to end up in children's hands," Judd, from Polk County, said.
"When you look at the package, it is called the Green Hornet. It is packaged and marketed toward children. So, what did we end up with? We ended up with six, 12-year-old children who overdosed on Green Hornet gummies full of marijuana," he continued.
"If this is truly medicine for the very sickest. Why are we packaging it for children? Why are we calling it Green Hornet? It stung all of those kids very hard."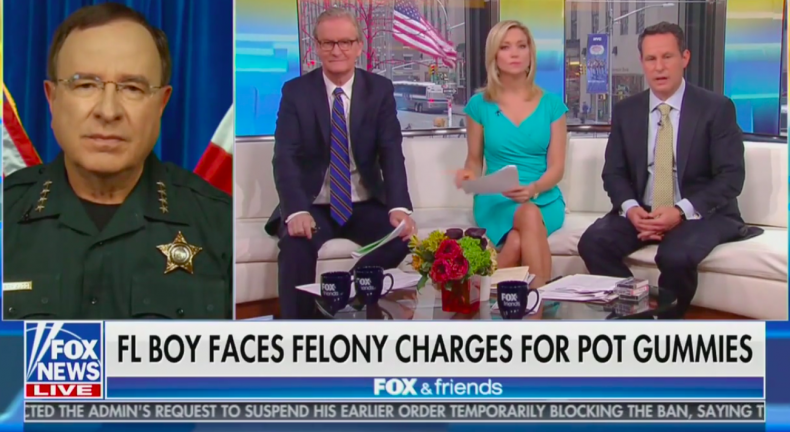 Kilmeade then warned viewers about the addictiveness of weed, citing anecdotal evidence about his "friends" rather than research or statistics.
"No one talks about this—THC is addicting," he said. "I know so many people, they say they were told one thing and they end up getting addicted to it. That is an addicting substance. There is a price to pay for pot."
"There absolutely is a price to pay for pot," Judd continued. "You know, I spent my entire life in law enforcement, and a lot of it investigating traffickers of drugs, and it is not a minor, nonviolent felony. It is ruining families and killing people every day across the United States and we stand here in denial thinking it is not a gateway drug."
The sheriff went on to link weed users to meth addicts, claiming drug addicts "use marijuana and meth and go out and kill themselves and overdose or kill someone else."
According to the Centers for Disease Control, marijuana can affect children differently from adults and some children who have mistakenly eaten edibles have ended up sick enough to need emergency medical care. There are, however, no recorded cases of someone dying from a marijuana overdose alone.