Fox News Guest Says America's Elite Pay '99 Percent' of The Nation's Taxes. They Don't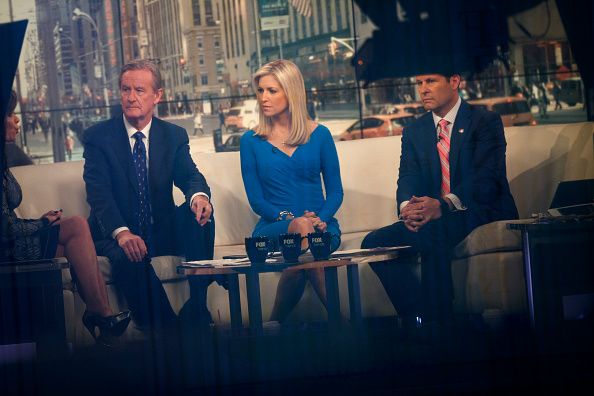 A guest on Fox News Thursday falsely claimed that America's richest individuals pay "99 percent" of the taxes in the United States. Maria Elvira Salazar's statement was aired without being corrected by the hosts on morning show Fox & Friends.
"Remember that 1 percent of this country pays 99 percent of the taxes," Salazar said during Thursday morning's segment of Fox & Friends. "The 1 percent, the most richest people, pay 99 percent of the taxes."
Salazar went further, adding that she is "not in that group and I'm sure probably millions of people that are watching me are not either. But we don't want to change that system because then otherwise we're going to have a classless society. One class, the poor one."
Co-host Brian Kilmeade then switched the subject to "freeloaders" and said that "the problem is that we have so many social programs we can't afford them and we're $20 million in debt."
But Salazar's statements are misleading, as according to the Wall Street Journal the top one percent will pay about 43 percent of the country's income tax in 2018. Households in the top 20 percent will pay about 87 percent of income taxes, a slight increase from 2017.
According to Bloomberg, in 2016 America's top one percent paid a greater share of individual income taxes than the bottom 90 percent combined. That year the top 50 percent of all taxpayers paid 97 percent of total income taxes.
Salazar, the daughter of Cuban political refugees and former congressional candidate, also warned against socialism during Thursday's Fox & Friends segment, railing against the new wave of democratic socialism in Congress.
"We have to be concerned that one of the major political parties of this country is trying to glorify the benefits of socialism," Salazar said, criticizing progressive lawmakers like Alexandria Ocasio-Cortez. "Socialism is one of the most perverse and evil systems that the human race has ever known besides slavery."
President Donald Trump also took a swipe at socialism during his State of the Union address on Tuesday night, saying that "we are born free and we will stay free. Tonight, we renew our resolve that America will never be a socialist country." The statement was followed by chants of "USA" from the Republican lawmakers in the room.
Ocasio-Cortez later said that she thought the president was "scared" and made the comment because "he sees that everything is closing in on him. And he knows he's losing the battle of public opinion when it comes to the actual substantive proposals that we're advancing to the public."
Salazar added on Thursday that socialism essentially "destroys the concept that you reap what you sow" and "destroys those who want to produce wealth for the benefits of society."