Fox News Guests Fight On-Air After One Called Greta Thunberg a 'Mentally Ill Swedish Child': 'Relax Skinny Boy... You're Despicable'
A former aide to Senator Chuck Schumer yelled at a Fox News guest live on-air on Monday evening for calling Greta Thunberg "a mentally ill Swedish child."
The topic of climate change was discussed to varying degrees on cable channels today after teen environmental activist Greta Thunberg, 16, delivered a scathing speech at the United Nations Climate Action Summit where she rebuked world leaders for destroying childhoods with their inability to properly combat climate change. "I shouldn't be up here. I should be back at school on the other side of the ocean," Thunberg said. "Yet you all come to us young people for hope. How dare you! You have stolen my dreams and my childhood with your empty words."
During a segment on Fox News, host Harris Faulkner discussed the impact of meat diets on the environment with guests Michael Knowles, host of The Michael Knowles Show, and ex-Schumer aide Chris Hahn. The group's discussion quickly descended into a shouting match after Knowles referred to Thunberg as "a mentally ill Swedish child."
"Ironically, there was a study that came out of Carnegie Mellon University in 2015, which showed that meatless diets are actually far worse for the environment than meat-filled diets. They increase emissions, they increase water use, they increase energy use," Knowles said. "But none of that matters because the climate hysteria movement is not about science, if it were about science, it would be led by scientists rather than by politicians and a mentally ill Swedish child who is being exploited by her parents and by the international left."
"How dare you," Hahn can be heard saying.
"So, what you're seeing here is a political movement and a religious movement and it's fulfilling religious and political goals of the left but it isn't doing much for science," Knowles continued.
"Chris, you had a visceral reaction to that, go ahead," host Harris Faulkner said.
"Yeah, I mean, you're a grown man and you're attacking a child. Shame on you." Hahn asserted.
"I'm not, I'm attacking the left for exploiting a mentally ill child," Knowles shot back.
Raising his voice, Hahn continued loudly: "Relax, skinny boy. I got this. You're attacking a child, you're a grown man, have some couth when you're on television. Maybe on your podcast you get away and say whatever you want because nobody's listening. You're on national television, be a grown up when you're talking about children."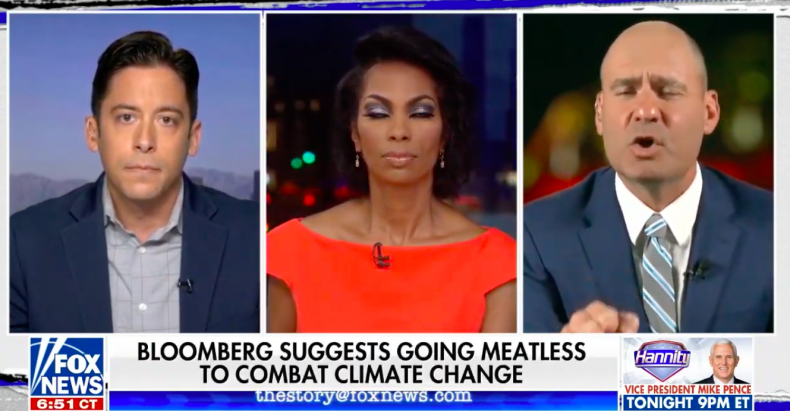 President Donald Trump, who remains skeptical about global warming, has not only questioned climate scientists from his own government, his administration has also wound back numerous climate initiatives and vowed to pull the U.S. from the Paris climate accord.
"She's trying to save the planet because your president doesn't believe in climate change and kids need to take to the streets to worry about their future," he added. "You are despicable for talking about her like that. You should apologize on national television right now!"
"I think the international left and her parents are exploiting a girl with many mental illnesses..." Knowles responded, before Hahn started yelling above him.
"You called her mentally ill. Take it back now!" Hahn asserted.
"She is mentally ill," Knowles fired back.
"Take it back now! Take it back now!" Hahn shouted, before then repeatedly saying: "You are despicable."
Faulkner eventually ended the dispute by changing the topic to 2020 Democratic candidate Andrew Yang.
In a statement emailed to Newsweek, a Fox News channel spokesperson condemned and apologized for the remarks made by Knowles. "The comment made by Michael Knowles who was a guest on The Story tonight was disgraceful — we apologize to Greta Thunberg and to our viewers," the spokesperson said.
This story has been updated to include comments made by a Fox News channel spokesperson.