Fox News' Hannity Sets Ratings Record in November Amid Trump's Voter Fraud Push
Fox News' Hannity achieved record ratings in a key demographic during the month of November amid President Donald Trump's evidence-free claims of massive voter fraud during the presidential election.
The prime-time opinion program hosted by Sean Hannity was watched by an average of over 1 million viewers aged 25-54 for the first time ever during the month. The show was the second-highest rated cable news show with 4,982,000 total viewers, just below the 5,095,000 who watched the network's top-rated show Tucker Carlson Tonight.
Hannity's post-election coverage featured regular appearances by White House Press Secretary Kayleigh McEnany, Senator Lindsey Graham (R-S.C.) and a host of other prominent Republicans closely associated with the president. Lawyers promoting unsubstantiated claims that widespread voter fraud handed President-elect Joe Biden the White House were also featured.
Fox News had its best November in prime time Nielsen ratings overall, while beating rival networks CNN and MSNBC in total viewers during both day and prime time. Hannity and Tucker Carlson Tonight were joined by fellow Fox News programs The Five and The Ingraham Angle in a list of the top five rated cable news network shows, followed by MSNBC's The Rachel Maddow Show.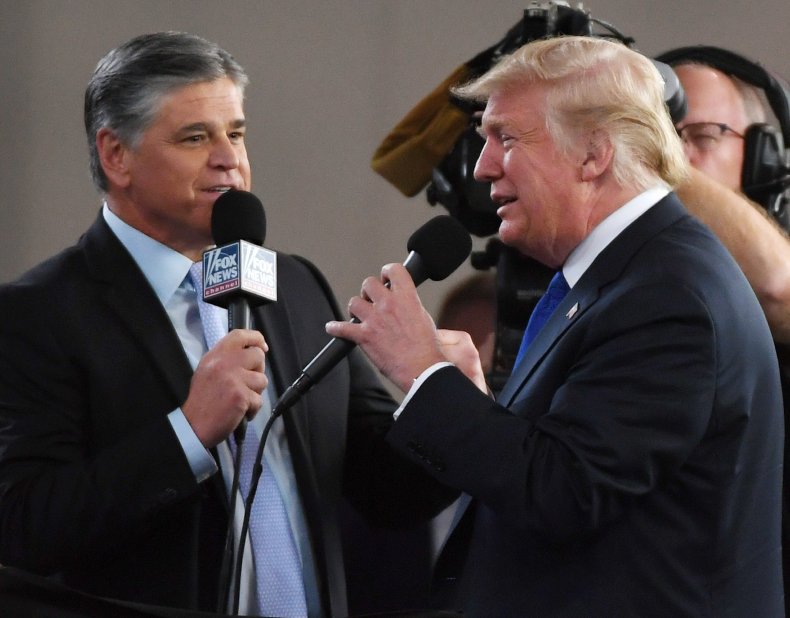 Tucker Carlson Tonight was the most-watched show in all of cable news during November and became the first program on a cable news network to ever score over 5 million viewers for two consecutive months. Hannity is the only other cable news show to achieve a monthly average of 5 million viewers.
Fox News viewership grew 22 percent in daytime programming when compared to November 2019 figures, with prime-time ratings increasing by 41 percent. MSNBC increased viewership by 32 percent in the day and 29 percent during prime time, while CNN had by far the largest year-to-year increases of the three networks. CNN daytime numbers were up 135 percent from the previous year, with prime-time numbers up 180 percent.
In the 25-54 demographic, CNN led ratings in both prime time and daytime. Total average viewer numbers reached a high mark for CNN in November, with prime-time viewership of over 2.8 million being the most ever recorded by the network. Prime-time viewership among those aged 25-54 hit the highest level seen since 2003, with a total of approximately 952,000.
Ratings for all of the cable news networks likely benefited from extensive election coverage. Delayed results due to the counting of large numbers of mail-in ballots amid the COVID-19 pandemic, along with Trump's extended protesting of the outcome, could have helped to further boost ratings above the already high figures that might have otherwise been expected during the month of a presidential election.