Fox News Host Sean Hannity Says Trump Will 'Devastate' Iran With America's 'Military Might,' President Replies That's 'An Understatement'
President Donald Trump, who once threatened North Korea with "fire and fury like the world has never seen," called a suggestion by Fox News host Sean Hannity that he would "devastate" Iran militarily without even putting troops on the ground "an understatement."
Tensions between Iran and the U.S. have intensified in recent weeks over attacks on oil tankers in the strategically-important Strait of Hormuz in the Persian Gulf, through which most of the world's oil passes. Washington accuses Tehran of orchestrating the attacks, which it denies.
Iran has also said it is now breaching the landmark 2015 nuclear deal by increasing its uranium enrichment beyond the agreed threshold. The Trump administration pulled the U.S. out of the nuclear deal, reimposing sanctions on Tehran.
The remaining signatories—the U.K., France, Germany, Russia, China, and the European Union—remain committed to keeping the deal alive, though Trump's withdrawal may prove to be a terminal blow.
Trump appeared via phone on Hannity's Fox News show on Thursday night. Hannity asked Trump about Iran.
"I think I've known you for over, nearly 25 years. I know your mindset on this very well," Hannity said. "I said it on the air in a message to the Mullahs that they'd better be careful. You will not put boots on the ground. You are probably going to show some level of patience.
"But, at the end of the day, if they force you, I believe, knowing you, my belief is you will devastate them… And I do believe that, if pushed, the military might you would unleash will be mighty and it won't require boots on the ground, am I right?"
Trump replied: "Well, I think that in the case of Iran, they know that even better than you do, and probably even stronger than you said it… I think what you said might be somewhat of an understatement."
The Iranian foreign ministry did not respond immediately to Newsweek's request for comment.
Last week, Iran seized two oil tankers with links to the U.K. in the Strait of Hormuz, citing environmental breaches. One vessel was quickly released, though the other, the U.K.-flagged Stena Impero, remains seized.
It is widely seen as a response to the seizure of an Iranian oil tanker by the British off the coast of Gibraltar in early July. The British accused Iran of smuggling oil to Syria, breaching European Union sanctions on the Assad regime.
As well as the targeting of oil tankers, Iran claimed to have shot down an American surveillance drone over the Strait of Hormuz. A couple of weeks later, the U.S. claimed it had also shot down an Iranian drone in the area.
The graphic below, provided by Statista, illustrates the strategic importance of the Strait of Hormuz.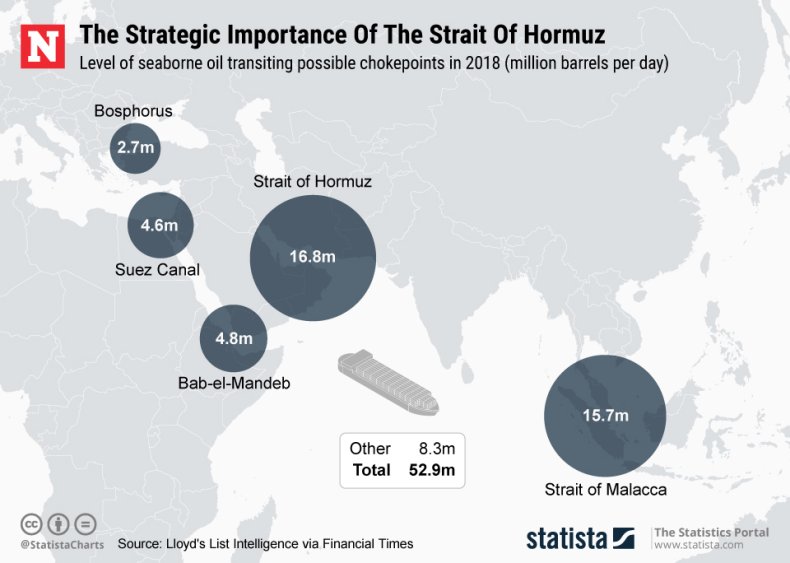 Fox News Host Sean Hannity Says Trump Will 'Devastate' Iran With America's 'Military Might,' President Replies That's 'An Understatement' | Politics