Fox News Host Appears to Suggest Network 'Kicked Off' #MeToo Movement, Before Asking If NBC Did Enough
Fox News host Harris Faulkner on Tuesday appeared to suggest that her network started the #MeToo movement, before then asking whether NBC had done enough.
Reporter Ronan Farrow, released his new book, Catch and Kill: Lies, Spies and a Conspiracy to Protect Predators, on Tuesday, which unleashed criticism on NBC News executives over their handling of sexual assault allegations against disgraced Hollywood producer Harvey Weinstein. According to Farrow, Weinstein attempted to use misconduct allegations against former Today anchor Matt Lauer to pressure the network into ending Farrow's probe into him.
NBC News firmly denied much of the allegations against the network made in Farrow's book.
"Farrow's effort to defame NBC News is clearly motivated not by a pursuit of truth, but an axe to grind," NBC News' president Noah Oppenheim wrote in a staff memo on Monday. "It is built on a series of distortions, confused timelines and outright inaccuracies."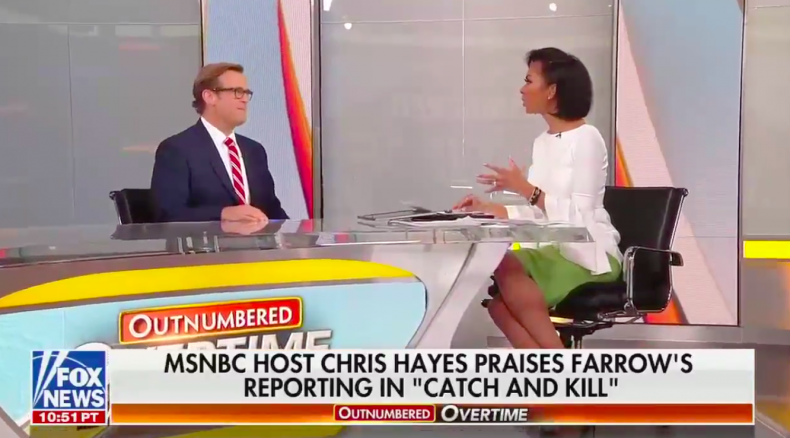 During a segment on Fox News' Outnumbered Overtime, Faulkner discussed the revelations with Mediaite's founding editor, Colby Hall.
"There's a clear split between those in the newsroom who are trained and talented reporters trying to speak truth to power," Hall said, "and NBC execs who are clearly eager for this to move on and turn the page and I don't know if that's going to happen anytime soon."
In response, Faulkner noted that "we've had our troubles here at Fox News years ago," before then apparently suggesting that the network "kicked off" some of the #MeToo movement.
"Some would say we kicked off some certain things with what had gone down," the host said. "We also learnt a lot of lessons."
"Did they cut deep enough at the top at NBC?" she asked.
"Not yet, I don't think so. Again, it's a still fluid story because there's this distance. I think beyond the culture, it seems like they've been very prescriptive to remedy a culture that was pretty toxic," Hall said. "I think that they have been on the front foot and they have sort of worked closely in addressing the culture and addressed things firsthand."
"You're talking about with Matt Lauer," Faulkner said. "So accusations come up from a women, they look at the situation, they let him go within 24 hours."
"Right and they claim and they knew nothing about this behavior and the moment they found out about this, he was gone within 24 hours," Hall replied. "Ronan Farrow says quite different and therein lies the conflict that will continue to reveal itself."
Farrow left NBC News in August 2017 reportedly due to conflicts over the Weinstein story. He took the story to The New Yorker, which eventually published the first Weinstein exposé later that year.