Fox News Host Calls Out Presidential Debate Moderator Kristen Welker for Having Been a 'Registered Democrat'
The moderator of the next presidential debate, Kristen Welker, faced criticism from a Fox News host on Monday for having been a "registered Democrat."
Fox & Friends co-host Brian Kilmeade was speaking about the next presidential debate between Democrat Joe Biden and President Donald Trump—taking place Thursday in Tennessee—when he began criticizing the moderator.
"It's unbelievable, if those debates come up, I'm looking at these topics," Kilmeade said. "Where's foreign policy, where's the economy? We're talking about American families, race in America, climate change—who wrote this up, Barack Obama?"
In response, co-host Ainsley Earhardt told him the topics where chosen by the moderator, prompting Kilmeade to criticize Welker, who is NBC News' White House correspondent and co-host of the network's Weekend Today.
"And this moderator, whose parents are Democratic donators, who was a registered Democrat before, who has the most hostile questions possible to Kayleigh McEnany, or whoever the press secretary is, and the president," Kilmeade said. "How does she get picked to be the moderator at this debate? It's incredible."
According to the Federal Election Commission, Welker's parents have donated thousands of dollars to Democratic candidates, including $500 to Biden for President in 2020, over $1,500 to Hillary [Clinton] for America and the Hillary Victory Fund in 2016 and more than $2,500 to Barack Obama's campaign in 2012.
The New York Post recently reported that Welker was a registered Democrat in Washington, D.C., in 2012 and in Rhode Island in 2004.
Welker also posted pictures on Facebook of her attending a 2012 Christmas celebration at the White House with then-President Obama and his family.
Welker has also faced criticism from Trump and his son Donald Trump Jr. In response to the recent report from the Post, Trump Jr. wrote, "Yikes! Here we go again," featuring an eye-rolling emoji.
President Trump then offered his own response to his son's tweet, writing, "She's always been terrible & unfair, just like most of the Fake News reporters, but I'll still play the game. The people know! How's Steve Scully doing?"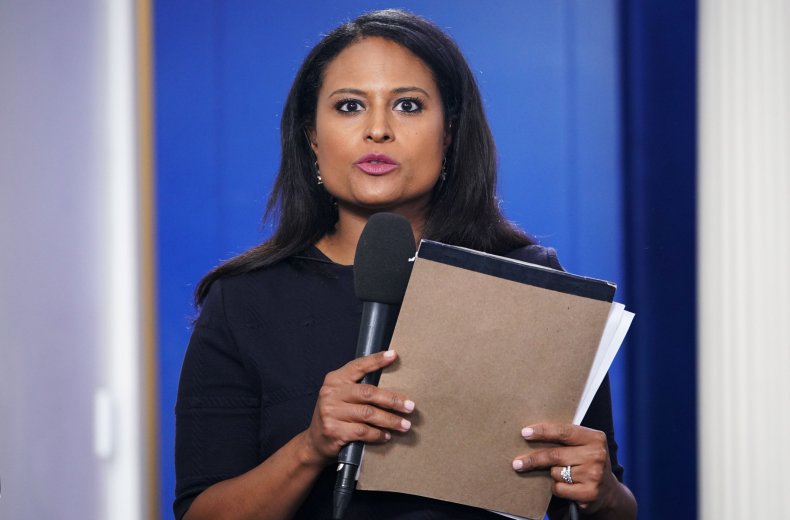 According to the Commission on Presidential Debates, Biden and Trump will speak about a number of topics, including COVID-19, American families, race in America, climate change, national security and leadership.
In an email sent to Newsweek, a spokesperson for NBC Universal noted that Welker has been a registered independent in Washington, D.C., since 2012. The spokesperson also pointed Newsweek to a previous clip of Trump praising Welker and stating that NBC "made a very wise decision" after she was named co-anchor of Weekend Today.
According to the spokesperson, Welker also attended a 2017 Christmas celebration at the White House hosted by Trump and his family.
Newsweek reached out to Fox News for comments but did not receive a response in time for publication.
Updated October 19, 2020, 9:04 a.m. ET, to include a statement from a spokesperson NBC Universal.