Chris Wallace Confronts Apple CEO Tim Cook on Removing Parler App, 'Restricting Free Speech'
Apple CEO Tim Cook does not consider banning Parler from the App Store to be a threat to free speech.
In an interview Sunday with host Chris Wallace on Fox News Sunday, Cook defended the tech giant's decision to remove the app after the platform was used to publicly plan and execute riots at the U.S. Capitol Building on January 6 that endangered the lives of legislators and law enforcement. Five people died in the violence.
"We don't consider that free speech and incitement to violence has an intersection," Cook said.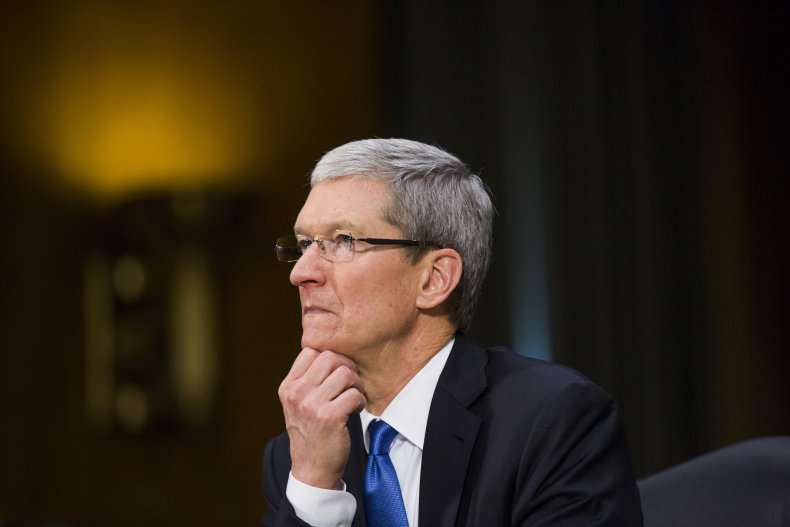 After the insurrection, Apple, along with Amazon Web Services and Google Play, made the move to ban Parler, an increasingly popular social media platform among conservatives. The app was number one in the App Store, above Facebook and Twitter, earlier this month.
Parler has positioned itself as a free-speech alternative to Twitter, though it has removed some content, such as a January 7 post by pro-Trump lawyer Lin Wood reading, "Get the firing squads ready. Pence goes FIRST."
The platform's relative freedom has provided a stage for extremist conspiracy theories, such as QAnon, as well as public discussions encouraging "patriots" to participate in future violence surrounding the inauguration of President-elect Joe Biden.
In one such case a three-minute video entitled "American Reborn" calling for a "great reawakening" ahead of the inauguration was widely shared on Parler just before the site went down on Monday. The video contained language linked to QAnon, which the FBI has listed as a domestic terrorist threat.
Parler CEO John Matze posted a statement confirming the platform would be off the internet for "up to a week" as the website is rebuilt "from scratch." Matze added that he considered the move by Apple and other tech companies to be a "coordinated attack" against free speech and market competition.
"We were too successful too fast," Matze said in his statement. The CEO has reportedly received death threats.
"Big Tech is not a monolith," Cook said when Wallace asked if technology companies were launching an attack on free speech. "We have an App Store that has about 2 million apps in it. We have terms of service for these apps. We don't control what's on the internet, but we've never viewed that our platform should be a simple replication of the internet. We have rules and regulations and we ask that people abide by those."
In an email to Parler, the Apple Review Board reportedly said the app contains "objectionable content," including violent threats, but no mechanism to manage potentially dangerous user-generated content. Apple gave Parler 24 hours to rewrite its regulations on Friday to adhere to App Store rules before officially banning the app.
Tesla CEO Elon Musk was one tech executive who was critical of such moves: "A lot of people are going to be super unhappy with West Coast high tech as the de facto arbiter of free speech," he posted in a tweet on Monday.
Meanwhile there are concerns that Big Tech will push potentially dangerous content to even murkier corners of the internet, Wallace said. Cook responded that Apple's suspension of Parler is not a permanent move. He said once the platform adjusts its moderation protocols to meet Apple's standards, it will be permitted back on the App Store.
Cook also added his experience watching the attacks: "It was one of the saddest moments of my life seeing an attack on our Capitol, an attack on our democracy. It was like I was in some sort of alternate reality...this could not be happening."
Apple did not respond to Newsweek's request for comment.