Fox News Host Confronts Georgia Official Over Leaked Call With Trump
Fox News anchor Sandra Smith confronted Georgia's Secretary of State Brad Raffensperger Tuesday morning over the leaked audio of his Saturday phone call with President Donald Trump to the press.
In an interview Monday with another Fox News host, Martha MacCallum, Raffensperger said that he did not know the call was being recorded. He also declined to say whether he had advance knowledge the recording would be leaked. The Washington Post shared the recording on Sunday. Raffensperger has said Trump misrepresented the conversation in a tweet on Sunday morning.
During the controversial call, Trump urged Raffensperger, a Republican, to overturn President-elect Joe Biden's win in the southern state. Trump has repeatedly disparaged the Georgia official in public.
In her interview with Raffensperger Tuesday, Smith suggested the Georgia official leaked the recording.
"I'll ask you about that leaked phone call now, that you had with the president that you have gone on the record with one of my colleagues saying that you thought it was important to leak that phone call. Others might say, 'that was a phone call with the president of the United States.' His team is pushing back, saying that that was a confidential phone call," Smith said.
"Why did you decide to leak that?" she asked.
"Well, it wasn't a confidential conversation. It was a phone call that I didn't really know what the outline of the meeting was. There was no preset meeting, lawyer to lawyer. But we did have our attorney on there, since the Trump campaign has sued the governor of Georgia and also our office about the past election," Raffensperger explained.
Continuing, the Georgia GOP official pointed out that Trump "went on Twitter the next morning and divulged that we did have the conversation and stated, you know, what his positions were. And they weren't factually supported."
Raffensperger noted that he "corrected" the misinformation pushed by Trump during the Saturday phone call. But he added that the president continued to share the same conspiracy theories during a Monday rally in Georgia.
Smith again pressed the secretary of state, asking if he was concerned about "the precedent" set by leaking a phone call with the president. Raffenperger pointed out that Trump was the one to first make the conversation public by tweeting about it.
"He continues to be misled or he continues to—doesn't want to believe the facts. And we have the facts on our side," he said.
"But the question is why not let it play out in court?" Smith interjected. The Fox News anchor suggested that the U.S. could somehow be in "jeopardy" because the audio was leaked.
"I don't understand how truth would ever jeopardize the country," Raffensperger replied. "We're standing on the facts. We're standing on the truth."
Trump and his loyalist supporters continue to claim without providing evidence that Biden won through widespread voter fraud. These allegations have been thoroughly litigated, with more than 50 lawsuits brought by the president and his supporters failing in state and federal courts. Even judges appointed by Trump and other Republicans have pointed out in their rulings that lawyers have not provided evidence to back the extraordinary claims.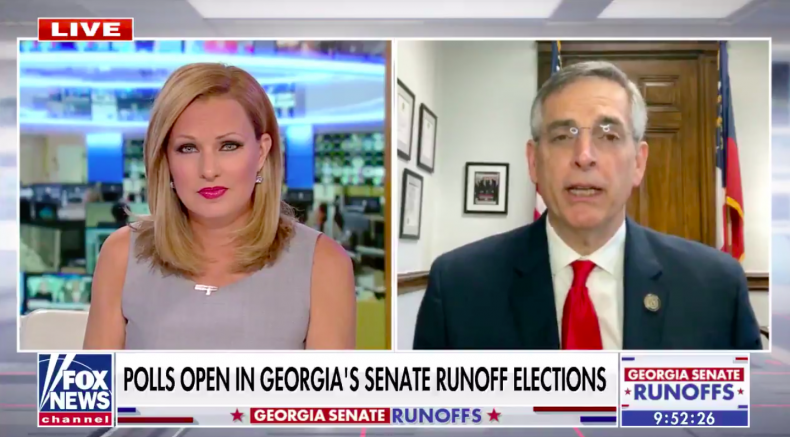 In Georgia, Trump lost by a narrow margin of nearly 12,000 votes. This tally has been confirmed through three recounts—including a hand recount. Raffensperger has pointed out that he voted for Trump and even donated to his presidential campaign, but the president has described him as an "enemy of the people" for refusing to overturn the will of Georgia's voters.
Although some Trump supporters have criticized Raffensperger over the leaked recording, many Republicans have criticized the president for his actions during the call.
"I think that it was deeply troubling, and I think everybody ought to listen to the full hour of it," GOP Wyoming Representative Liz Cheney, the No. 3 House Republican, said, according to a congressional pool report on Monday. "I think that it's deeply troubling, and I'm just going to leave it at that."
Georgia's Lieutenant Governor Geoff Duncan, a Republican, said he was "disappointed" with Trump's call during a Monday interview with CNN.
"I am 100 percent certified to tell you that it was inappropriate," Duncan said. He pointed out that the president's remarks were "based on misinformation" and "theories that have been debunked and disproved over the course of the last 10 weeks."
Some Democrats and other Trump critics are calling for criminal charges to be filed against the president. Legal experts have said that the president appears to have violated federal statute 52 U.S. Code 20511. The statute says it is a crime to "knowingly and willfully" deprive or defraud—or attempt to deprive or defraud—a state's residents of a free and fair election.
"I suspect if all that I heard on this tape is to be investigated, there could very well be criminal charges brought by state and local governments down there in Georgia," Democratic House Majority Whip Jim Clyburn of South Carolina said Tuesday morning during an interview with CNN.
"I would hope that that would be pursued," Clyburn added.
Newsweek reached out to Raffensperger's office and the White House for comment but they did not immediately respond.