Fox News Host Confronts GOP Lawmaker for Backing Texas AG's Election Lawsuit
Fox News anchor Chris Wallace confronted Representative Steve Scalise, a Louisiana Republican who serves as the House Minority Whip, over his support for a long-shot lawsuit brought to the Supreme Court last week in an attempt to overturn President-elect Joe Biden's victory in the Electoral College.
Republican Texas Attorney General Ken Paxton filed the brief with the Supreme Court last week, asking the nation's top court to overturn the results in Georgia, Michigan, Pennsylvania and Wisconsin. The court rejected the lawsuit and several prominent Republican lawmakers—including Texas Senator John Cornyn—criticized Paxton's brief. But Scalise joined more than 120 Republicans in the House of Representatives signing onto an amicus brief supporting the lawsuit before it was thrown out.
"There have been dozens of lawsuits and they've been rejected by state courts, by federal courts, by federal courts by judges appointed by Donald Trump and on Friday night, the Supreme Court threw out a lawsuit that was brought by the attorney general of Texas ... 126 Republicans in the House—including you sir—signed onto that lawsuit," Wallace explained during an interview with Scalise on Fox News Sunday.
"The Supreme Court threw it out without even listening to it. This was this lawsuit that was gonna throw out the votes in four swing states ... I mean, you were talking about disenfranchising the 10 million Biden voters who supported the president-elect in those four states," Wallace continued. "Do you feel comfortable throwing out millions of votes of your fellow Americans?"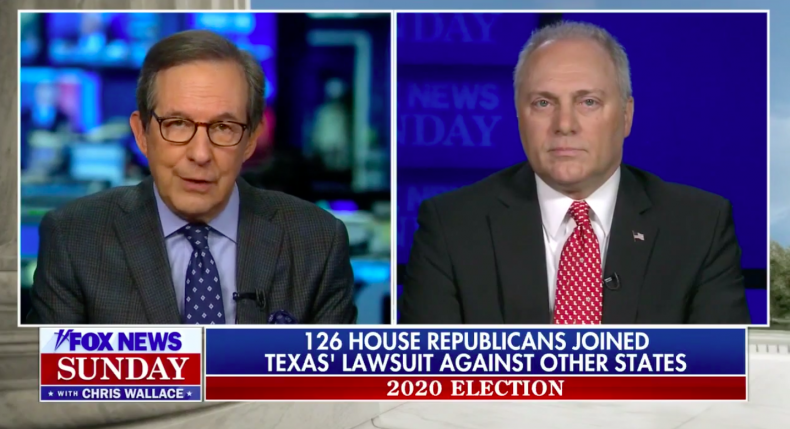 Scalise insisted "nobody wants any votes thrown out." The top House Republican said the Texas lawsuit was arguing that the four states had failed to follow their election laws. "The Constitution is very clear that it's state legislatures that set the process for having electors. Some secretaries of states changed those rules."
"The Supreme Court threw that out," Wallace reiterated in response. "They didn't even think it merited a hearing."
Scalise responded by saying the top court had just determined that the lawsuit "didn't have standing" and had not ruled on the merits. He said the Supreme Court doesn't like "getting in the middle of disputes between other branches of government."
Prior to the Supreme Court rejecting the case, Cornyn called into question the legal theory being pushed by Paxton's brief.
"Number one, why would a state, even such a great state as Texas, have a say-so on how other states administer their elections?" the Republican senator from Texas told CNN last week. "We have a diffused and dispersed system, and even though we might not like it, they may think it's unfair, those (election policies) are decided at the state and local level and not at the national level."
GOP Senator Ben Sasse of Nebraska criticized the lawsuit as well, suggesting that Paxton—who is under investigation by the FBI for alleged corruption—was seeking a pardon from Trump.
"I'm no lawyer, but I suspect the Supreme Court swats this away. From the brief, it looks like a fella begging for a pardon filed a PR stunt rather than a lawsuit—as all of the assertions have already been rejected by federal courts and Texas' own solicitor general isn't signing on," Sasse told The Washington Examiner on Thursday.
Speaking to the Detroit Free Press on Saturday after the Supreme Court rejected the lawsuit, Michigan Attorney General Dana Nessel accused Republicans who backed the Texas brief—like Scalise—of violating their oaths of office.
"These are individuals who, in my opinion, have violated their oaths of office. And have sought to, in order to appease a demagogue, they've chosen Donald Trump over democracy and over their constituents," Nessel said.
Newsweek reached out to the Trump campaign for comment, but did not immediately receive a response.