Fox News Host Confronts GOP Senator J.D. Vance on Opposition to Ukraine Aid
Fox News co-host Brian Kilmeade confronted Senator J.D. Vance, an Ohio Republican, on Thursday about the United States sending more aid to Ukraine in order to help the country fight in its ongoing war with Russia.
The State Department announced earlier this month that an additional $3.75 billion in military assistance, which includes 50 Bradley Infantry Fighting Vehicles, will be sent to the Eastern European country. This brings the overall security assistance by the U.S. to Ukraine to approximately $27.2 billion since Russian President Vladimir Putin launched his invasion on February 24, 2022.
"What is our goal? How is American policy meant to achieve that goal?" the Republican senator asked during an interview on Fox & Friends. "It feels sometimes to me like we're just shoveling money over there without any clear plan for what it's meant to accomplish."
Kilmeade then pushed back and said that the U.S. is helping Ukraine take back its territories by supporting "fighters who clearly know how to fight."
"What don't you understand about that?" the Fox News host asked Vance.
"Well, I think my issue, Brian is that if you look at the actual state of the war right now, it's been an effective strategic quagmire for six months," Vance responded. "So the question becomes what is our ultimate objective here is it to kill as many Ukrainians and as many Russians as possible, or is it to bring some sort of resolution to this conflict that hopefully allows us to rebuild Ukraine, allows the Ukrainians to rebuild their country and also prevents the risk of war."
Kilmeade again pushed back against Vance's opposition to sending more aid to Ukraine, saying that if Russia controls territories in Ukraine, it will then be eager to invade neighboring countries such as Georgia and Moldova.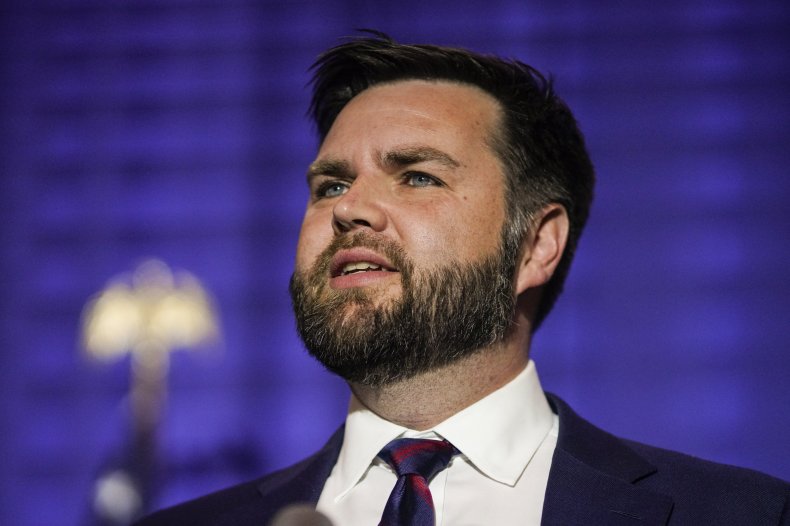 Vance then countered Kilmeade's argument, saying, "We've spent so much of our munitions down so much of our military grade equipment down that if we have to fight a war against China, which I think is far more likely and frankly, it's a far more dangerous opponent. That is what worries me is that the focus on Russia comes at the expense of China...unfortunately, we cannot fight two enemies at once."
A number of Western countries have recently announced that they will send tanks to the war-torn country as Ukrainian President Volodymyr Zelensky continues to call for further assistance. Those nations include the U.S., the United Kingdom, Denmark, Norway, and France.
Newsweek reached out to Vance's office for comment.