Fox News Host Confronts GOP Senator on Lack of Republican Budget Proposal
Fox News anchor Shannon Bream confronted Senator John Kennedy, a Louisiana Republican, on Sunday over the GOP's lack of a counter to President Joe Biden's budget proposal—pressing the lawmaker on what the conservative response would be.
Biden on Thursday rolled out his budget proposal, which purports to cut deficits by nearly $3 trillion over the next decade as some hard-right Republicans threaten to push the federal government to default on its debt if serious deficit reductions are not implemented. While GOP lawmakers were quick to criticize the Democratic president's opening offer in negotiations that are expected to last months, they have not yet put forward a counter.
Bream raised the issue with Kennedy, a member of the Senate budget committee, on Fox News Sunday. The Fox News host questioned the senator over what the GOP would propose instead of simply criticizing Biden's ideas.
"He [Biden] says he's going to reduce the deficit, shore up Medicare and Social Security, and make the rich pay their fair share," Bream said. "So, what is the GOP counter?"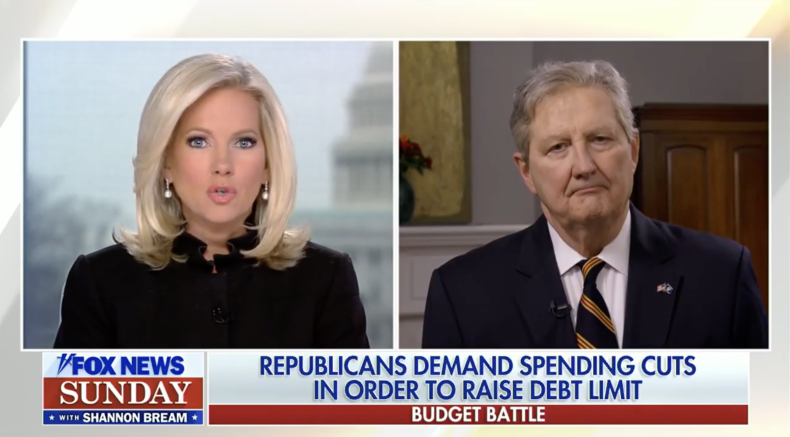 Kennedy responded to Bream by dismissing Biden's proposal and contending it would create additional debt. The senator said the $6.8 trillion budget proposal would raise taxes and cut defense spending.
"The president says the budget will solve our financial problems in Medicare and Social Security, that's not true," the GOP lawmaker said. "Anything seems possible when you don't know what you're talking about." Citing The Wall Street Journal, Kennedy said Biden's budget would add "$11 trillion in a financial shortfall for Social Security and Medicare."
"The only way I know how to improve the president's budget is with a shredder," Kennedy said.
Bream then reiterated her original question. "Well, we're waiting to see what Republicans want to offer in return other than just criticism."
The Fox News host pointed to a report in The New York Times that said some Republicans would push forward a proposal that would include cuts to food assistance, housing aid, and health care for low-income Americans.
"We've got to get to what the GOP counter is," Bream said. "And how do you also deal with the optics of knowing how the Republican plans are going to be portrayed by most folks in the media?"
Kennedy said he would try to do "what's right for the American people" regardless of the media narrative. He said the House, which is narrowly controlled by Republicans, would put forward its budget proposal and said the Senate, which is narrowly controlled by Democrats, should do the same.
"There is no question that there are savings to be had in this budget," Kennedy added, but did not share specifics on what the GOP would offer.
Biden took aim at Republicans for not being ready with their own offer as he discussed his budget on Thursday.
"I just laid out the bulk of my budget," the president said. "Republicans in Congress should do the same thing. Then we can sit down and see where we disagree."
House Speaker Kevin McCarthy, a California Republican, criticized Biden's proposal. "It just seems like it's going to create the biggest government in history. I don't think that's what we need at this time," he said, the Associated Press reported.
While it's unclear when Republicans will put forward their own proposal, Representative Ben Cline, a Virginia Republican, said it would come in "weeks."
"In the coming weeks, House Republicans will put forward a budget that actually works toward getting our fiscal house in order by reining in out-of-control spending and putting us on a path to balance," Cline, who leads the conservative Republican Study Committee's Budget and Spending Task Force, told Fox New last week.
A spokesperson for the GOP-led House Budget Committee told Newsweek that the "Republican budget will prioritize and work to solve the issues that Americans are concerned about."
The spokesperson continued: "We will create opportunities for the success of all Americans, restore a strong national defense and reduce the bloated bureaucracy and woke agenda that is holding our economy hostage.
"It is curious that the Democrats are so eager to move on from this president's budget—it must be because they recognize this budget will lead to the highest sustained levels of taxes, spending and deficits in American history," the spokesperson said.
The budget discussions come as some hard-right Republicans have threatened to push the federal government into default if major deficit reductions are not implemented. Meanwhile, top GOP leaders have dismissed concerns about a possible default, asserting that the country will meet its responsibilities and pay its creditors.
"Everybody knows from the beginning you're not going to default," Senate Minority Leader Mitch McConnell, a Kentucky Republican, said in an interview with Spectrum News on Tuesday. "It's simply unacceptable, it's not going to happen. [McCarthy] said that as well."
McConnell explained that McCarthy should be taking the lead from the Republican side on the budget discussions.
"The reason it starts with McCarthy is because he's in the majority and I'm not," McConnell said. "I think he and Biden have to reach an agreement about what are the conditions, if any, that will be attached to raising the debt ceiling."
Newsweek reached out to press representatives for McCarthy and House Budget Committee chair Jodey Arrington, a Texas Republican, via email for comment.
Updated, 3/15/2023, 11:18 a.m. ET: This story was updated with a statement from a spokesperson from the Republican-led House Budget Committee.