Fox News Host Confronts Ken Paxton Over Texas Stance on COVID Mandates: 'Not Consistent'
Fox News Sunday anchor Chris Wallace grilled Texas Attorney General Ken Paxton, a Republican, over his state's stance on COVID-19 mandates—pointing out that it's "not consistent."
Paxton has slammed President Joe Biden's executive order requiring businesses with more than 100 employees to mandate vaccines or weekly testing—saying businesses should be able to make their own decisions to protect workers.
However, the Texas attorney general has also backed Governor Greg Abbott's executive order that blocks businesses and other entities from implementing vaccine mandates.
"You say Texas companies should take care of their own workers. So, given that how do you justify the governor of Texas, Greg Abbott, issuing an executive order that bans any business in Texas from issuing a vaccine mandate? And how do you justify the governor issuing a ban on all school districts on mask mandates—a ban that was overturned just this week by a federal judge?" Wallace asked Paxton during a Sunday interview on Fox News Sunday.
Paxton responded by saying Abbott has "the authority under state law" to respond in this way. He said the governor was implementing his personal views on mask and vaccine mandates.
"So it's my job as the state's attorney to go defend what he's done and what the legislature's done," the Republican official responded.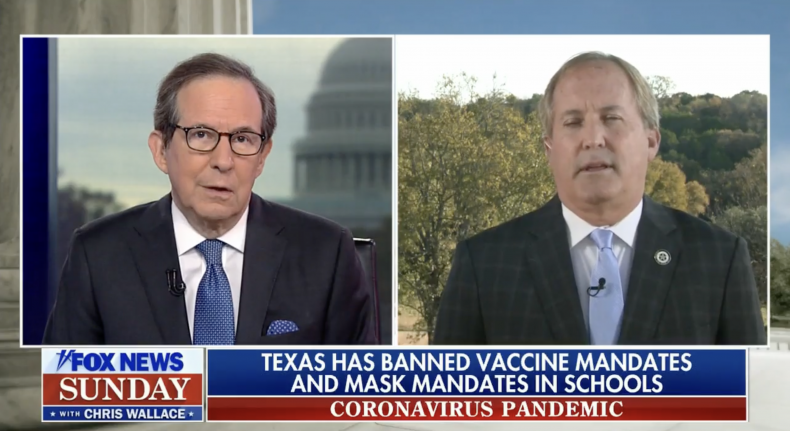 Wallace interjected, saying he wanted to "drill down" on his question.
"You said that you think that Texas companies and businesses should take care of their own workers. Is that consistent with the governor's executive order and your enforcement of that order, which bans companies from taking care of their own workers as they see fit?" the host asked.
The Texas attorney general argued that Biden "doesn't have the authority to force companies" to implement vaccine mandates. Paxton said he is telling companies that they don't have to listen to the president.
"Yeah, but you said that the businesses should take care of their own workers," Wallace again pointed out. "And the governor is saying they can't take care of their own workers as they see fit. They're prohibited from deciding if they so choose to issue a vaccine mandate."
"That's not consistent," Wallace asserted.
Paxton stumbled to respond before arguing that "we're dealing with two different types of requirements here," contrasting between state and federal law. He argued that vaccine mandates will have a "negative" impact on the U.S. economy.
"But I just want to do this one more time," Wallace said, doubling down on his question. "You're saying they should have the authority and the ability to decide what their workers should do. The governor's executive order prohibits them from deciding what they want to do. He bans vaccine mandates."
"Are you saying there's a difference between a mandate to get a vaccine from the federal government—is different in terms of the ability to take care of their own than a state mandate not to have vaccine mandates?" Wallace asked.
The Texas official said the question was "a little confusing." But he contended: "The governor has a different authority under state law."
The U.S. Court of Appeals for the Fifth Circuit in New Orleans last week extended a stay against Biden's executive order on the vaccine mandate.
"From economic uncertainty to workplace strife, the mere specter of the mandate has contributed to untold economic upheaval in recent months," Judge Kurt D. Engelhardt of the three-judge panel wrote.
It's unclear whether the vaccine mandate will ultimately be upheld or struck down by the courts. Meanwhile, many large private businesses have implemented their own vaccine requirements. However, some states—such as Texas—have attempted to prevent them from doing so.
Newsweek reached out to Paxton's press office for comment but did not immediately receive a response.