Fox News Host Confronts Mick Mulvaney Over 'Trump Will Concede Gracefully' Op-Ed
On Sunday, former Trump administration official Mick Mulvaney commented on his November 7 Wall Street Journal opinion piece suggesting the president would "concede gracefully" if he lost the election. Mulvaney, who served as President Donald Trump's acting White House chief of staff, defended the op-ed during an interview with Fox News host Chris Wallace.
Referencing the piece, published four days after the election, Mulvaney said his argument that Trump would "participate in a peaceful transition of power" was rooted in observations of the president's conduct until that point. Throughout his Sunday morning remarks to Wallace, which elicited several challenges from the Fox News host, Mulvaney insisted that Trump's behavior surrounding Wednesday's U.S. Capitol riot signaled a shift from past actions.
"I feel a lot of emotions this week. I was shocked, I was angered, I was sad, I was embarrassed, I was frustrated," said Mulvaney, who resigned from his position as special envoy to Northern Ireland after the deadly riot. He was one of several Trump administration officials and cabinet members to announce their resignations in light of the siege, carried out by hordes of Trump supporters who, urged by the president and his allies, stormed the Capitol to protest Joe Biden's election victory.
Mulvaney claimed that Trump's contributions to the riots, as well as his failure to diffuse the situation or assume any responsibility for its occurrence, indicated that "something is very different now." He purportedly drew comparisons to the sitting president's approach to leadership during Mulvaney's term in the White House, which ended eight months ago.
"What I do know, Chris, is there are things that are different," he told Wallace. "I wrote a piece in the Wall Street Journal six weeks ago saying that I thought the president would leave in a presidential manner. I really did believe that at the time. The stories that I told to back that up were true."
"I've seen the president be presidential before, and I now that he has the ability to do it. He did it every single day," Mulvaney said. "I don't know what's different...I think the president, either he's different, the people around him are different or both, but something is very different now than we saw when I worked there more than eight months ago."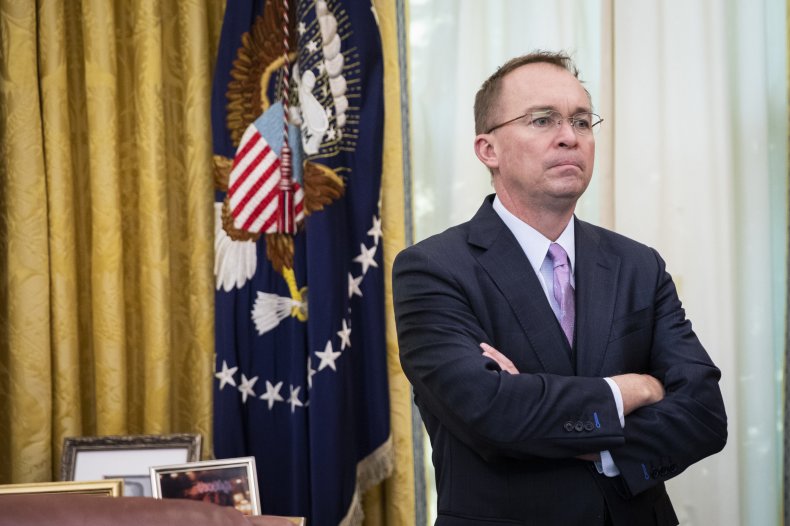 Wallace pointed out that Mulvaney did not resign from his White House role after Trump was impeached for allegedly threatening to withhold military aid from Ukraine in an effort to force an investigation targeting Biden, nor did he step down after Trump's immigration policies ordered family separations and detainment of children at the U.S.-Mexico border. Wallace also noted that Mulvaney remained a top administration official when Trump neglected to condemn white supremacists following the 2017 vehicle ambush in Charlottesville, Virginia, that left one person dead and injured many.
Trump and his campaign had already begun to publicize baseless claims of voter fraud, "rigged" election procedures and Democratic schemes preventing him from securing a second term in office when Mulvaney's op-ed was published. The president's fairly forthright remarks during the first debate against Biden in September foreshadowed his intent to resist a concession if he believed the outcome was "manipulated."
Newsweek reached out to the White House for comment but did not receive a reply in time for publication.