Fox News Host Confronts RNC Chair Over Trump's Vaccine Timeline, 'Rounding the Corner' Comment
Fox News anchor Chris Wallace pressed Ronna McDaniel, chair of the Republican National Committee, over President Donald Trump's messaging about the surging COVID-19 pandemic and the timeline for the release of a vaccine.
At the outset of an interview on Fox News Sunday, Wallace confronted McDaniel with remarks from Trump during a Friday rally in Florida. During the campaign event, the president claimed "we're not entering a dark winter, we're entering the final turn and approaching the light at the end of the tunnel." That comment came the same day the U.S. broke a new record, with more than 85,000 daily COVID-19 infections.
"The single worst day of the pandemic and the president says we're entering, or we can see, the light at the end of the tunnel. What is he talking about?" Wallace asked McDaniel.
McDaniel responded by saying "we have a vaccine on the horizon" and that there are "many, many trials that are in phase three." The GOP chair said "we're getting closer and closer to that vaccine" and that testing and therapeutics for COVID-19 have improved, while noting that "mortality rates are down."
"So we are seeing light at the end of the tunnel, especially when we get this vaccine at the end of this year or early next year," McDaniel said.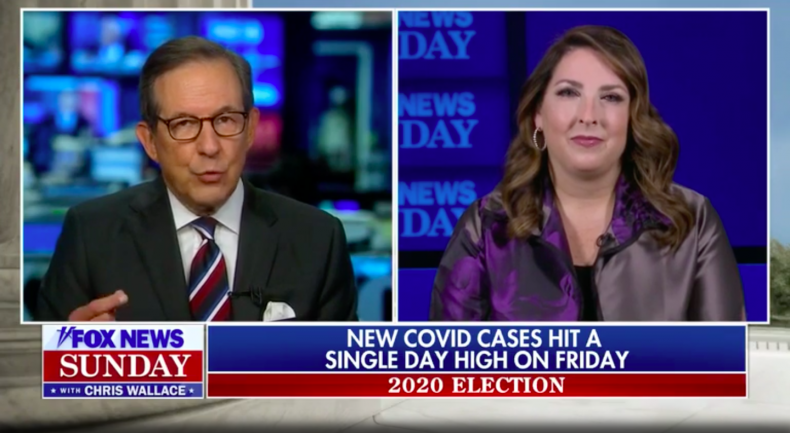 Wallace pushed back, pointing out that top Trump administration health officials have said the vaccine won't be "readily available to the public till the summer."
"Again, let's look at the actual numbers of what we're going through right now," Wallace said. He then put some stats on the screen, before reading them to McDaniel. "85,085 new cases on Friday. Hospitalizations increased in 38 states over the past week. More than 170 counties in 36 states designated hotspots. Deaths averaging over 1,000 a day," he said.
"Meanwhile, the president is holding rallies. Thousands of people packed together, most of them not wearing masks ... Again, what is the president talking about?" he asked.
McDaniel insisted that Trump "saved lives by shutting down travel to China," saying that Democratic presidential nominee Joe Biden disagreed with this decision. "He shut down the economy that was booming," she said.
Wallace cut in, pointing out that she was talking about things that had been done in January and March. He suggested Trump was downplaying the pandemic. "We had 85,000 cases on Friday," the journalist pointed out.
The RNC chair again argued that Trump has taken significant steps to address the crisis, arguing that Biden "continues to scare the American people" while the president "chooses to be positive."
"I want to move on, but I just have to point out—in fact we are running out of hospital beds in a number of states. And as I've pointed out, hospitalizations are up in 38 states right now," Wallace said.
Despite the president's claims, public health experts have warned that the situation is becoming more dire in the U.S. Although new therapeutics have led to a decline in mortality rates, doctors have warned that this will not be enough to curb a spike in new deaths as new infections surge across the country.
"Obviously the major implication of this dramatic rise in cases will be in two weeks—a dramatic rise in deaths," Dr. Jonathan Reiner, a professor of Medicine at the George Washington University Medical Center, told CNN last Wednesday. Reiner predicted that the U.S. will begin to see "closer to 2,000 deaths per day" within the coming weeks.
Dr. Scott Gottlieb, who served as commissioner of the Food and Drug Administration under President Donald Trump from 2017 to 2019, told CNBC's Squawk Box last week that improved therapeutics would not be enough to prevent a rise in COVID-19 deaths.
"The challenge is that we're probably going to be infecting more people. So even though we're going to reduce in-hospital mortality and save more lives, I think more people are going to end up getting infected over the coming season than we've seen infected in the first two surges of this virus," Gottlieb said.
As of Sunday morning, the U.S. had confirmed more than 8.6 million new COVID-19 infections and nearly 225,000 deaths since the pandemic began just nine months ago. The average of daily new infections over the past seven days has risen to nearly 70,000. The U.S. continues to have the highest number of total infections and deaths of any country in the world.
In a Sunday statement, Biden condemned the Trump administration's response to the pandemic. "It is particularly outrageous when the science tells us that if we just took basic precautions now, we could save thousands of lives," the former vice president said.
"It's long past time for President Trump and his administration to listen to the scientists, take action, and finally take seriously the threat of a virus that's costing thousands of lives each week, shuttering our schools, and forcing millions of Americans out of work," Biden said.
Newsweek reached out to the White House for comment, but it did not immediately respond.