Fox News Host Confronts Trump Adviser Over President's Rallies With Thousands 'Packed Together' Amid COVID Pandemic
Fox News anchor Chris Wallace questioned President Donald Trump's campaign adviser Jason Miller over the large rallies—including indoor events—the president continues to hold, despite many of them violating the COVID-19 guidelines put forward by his own administration.
Thousands of Trump supporters—many without masks—attended rallies in Michigan and Wisconsin on Saturday. The president has continued to downplay the risks of COVID-19, even as tens of thousands of new infections along with hundreds of new deaths are recorded daily—and after being hospitalized himself with the virus earlier in October.
"Why does the president continue to hold these rallies where thousands of people are packed together—the vast majority of them without masks?" Wallace asked Miller during a Fox News Sunday interview before playing a clip of Trump speaking at a crowded Florida rally last week.
"Why doesn't the president follow his administration's own guidelines at his rallies?" the host asked.
Miller responded by pointing out that masks and hand sanitizer are given out at the rallies. He said that he would "encourage" everyone attending a rally to "put the mask on." The Trump adviser said that temperatures of attendees are checked, and people are reminded to wash their hands.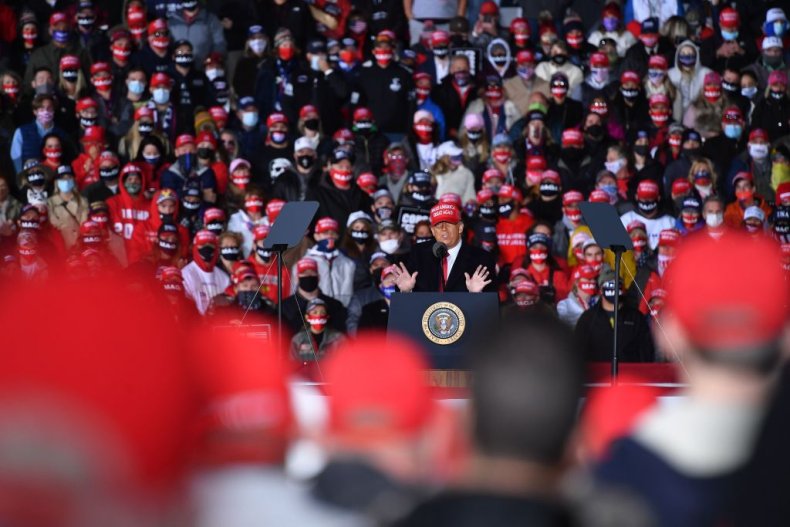 "As we get close to the election, people don't want to be living in fear, again in their basements," Miller said. "We're going to be strong. We're going to be safe. But we're not going to be scared here," he insisted.
Miller went on to argue that Trump rallies present a similar risk as Black Lives Matter or other protests happening across the country.
On NBC News Meet the Press, Trump Secretary of Health and Human Services Alex Azar was pressed over the same concerns by host Chuck Todd. The journalist pointed out that Azar had attended a large indoor rally with Trump in Florida on Friday.
"What message are we sending? What example are you sending as a top public health official participating in indoor events like that?" Todd asked.
Azar suggested it was a safe event, because masks were distributed to all that attended and chairs were arranged in a "socially distanced way." He pointed out that he wore a "face covering throughout."
Azar said "our advice is the same no matter what the setting."
Newsweek reached out to the Trump campaign for further comment, but did not receive a response in time for publication.
Meanwhile, the number of new infections from COVID-19 is rising across the U.S. once again. The seven-day average number of new daily infections has risen above 56,000 after hovering below 40,000 in early to mid-September, according to The New York Times' tracker. New daily deaths have remained relatively steady, however, averaging just over 700 per day over the past week. In total, more than 8 million people have been infected by COVID-19 in the U.S., and nearly 220,000 have died since the first reported infection in the country just nine months ago.