Fox News Host Confronts Trump's Press Secretary With Nebraska, Wisconsin COVID Positivity Rates Ahead of President's Visits
Fox News anchor Sandra Smith confronted White House press secretary Kayleigh McEnany with the COVID-19 positivity rates of Nebraska and Wisconsin ahead of President Donald Trump's campaign rallies in the states on Tuesday.
Over the past week, Trump has continued to downplay the coronavirus pandemic, even as new infections and hospitalizations surge. Despite this reality, the president said last Friday at a Florida rally that the U.S. is "not entering a dark winter, we're entering the final turn and approaching the light at the end of the tunnel." During a Tuesday interview, Smith asked McEnany about the president's remarks while pointing to the escalating positivity rates in Wisconsin and Nebraska.
The Fox News host pointed out that in Wisconsin new positive cases are up 53 percent over the past two weeks. "They're at a 28 percent positivity rate. More than one in four tests is coming back positive," Smith said.
"In Nebraska…a 21 and a half percent positivity rate. So does it help the president to continue to dismiss—to dismiss this virus and say that we're rounding a corner?" she asked. "Isn't there an opportunity to lay out a very clear plan if he is reelected, how we're going to get rid of this thing?"
McEnany argued that Trump has "shown us that plan" through therapeutics and treatments for COVID-19. "And his plan is working," the White House official insisted. "The American public probably doesn't know this. But if you look at hospital beds across the country, the percentage of hospital beds that are taken up by COVID patients right now are 6 percent. It's a testament to the president's therapeutics."
"The American people want freedom," McEnany said. "They want to make choices for themselves—get out, open their businesses, open their schools, open their churches. That is what [the] president has done," she said.
Newsweek reached out to Nebraska's and Wisconsin's Departments of Health and Human Services for comment, but they did not immediately respond.
On Sunday, Fox News anchor Chris Wallace also confronted GOP Chair Ronna McDaniel over Trump's dismissal of new infections. After pointing out that the U.S. had tallied a new record for daily COVID-19 infections on Friday, surpassing 85,000, Wallace said: "The president says we're entering, or we can see, the light at the end of the tunnel. What is he talking about?"
McDaniel responded in a similar manner to McEnany, pointing to the success of new therapeutics. She also emphasized that health experts expect a COVID-19 vaccine by the end of the year or early in 2021.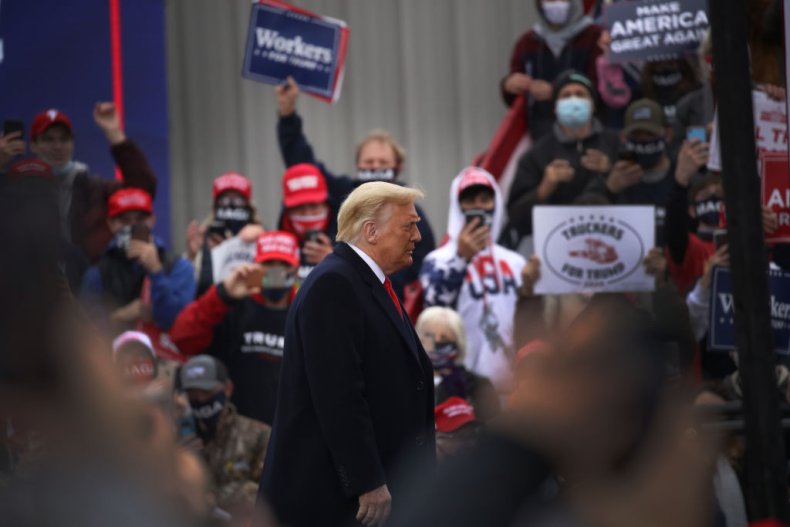 Meanwhile, the U.S. continues to have the highest number of COVID-19 infections and deaths of any country in the world. As of the early afternoon on Tuesday, the U.S. had confirmed more than 8.7 million infections and over 225,000 deaths since the outbreak began just over nine months ago, according to the New York Times tracker.