Fox News Host Defends John Bolton: 'He's Sat on This Couch Before. He's Not a Liar'
Fox News co-host Brian Kilmeade defended Donald Trump's former national security adviser John Bolton, dismissing accusations lobbed by some of the president's supporters accusing the ex-administration official of lying.
"I don't like the idea of people making John Bolton out to be a liar," Kilmeade said on Fox & Friends Thursday morning.
"He sat on this couch before," the morning show co-host noted (Bolton was previously a Fox News contributor). "He's not a liar. They have a differing of opinion," Kilmeade said. He then suggested that Bolton's "credibility" shouldn't be questioned.
On Sunday, The New York Times reported on excerpts from a manuscript of Bolton's unpublished new book, which directly contradicted a key argument of Trump's defense in the ongoing Senate impeachment trial. The former administration official reportedly wrote that the president explicitly told him that he wanted security aid withheld from Ukraine until the country's leaders cooperated with desired investigations into Democrats and former Vice President Joe Biden.
Trump and his defenders have maintained that the president never linked the hold on aid to the investigations. The president, as well as many Republican supporters, have now tried to claim that Bolton is simply a disgruntled former employee and is lying to sell more books.
Bolton departed from the White House in September, with Trump claiming he'd been fired and the former adviser saying he'd offered his resignation.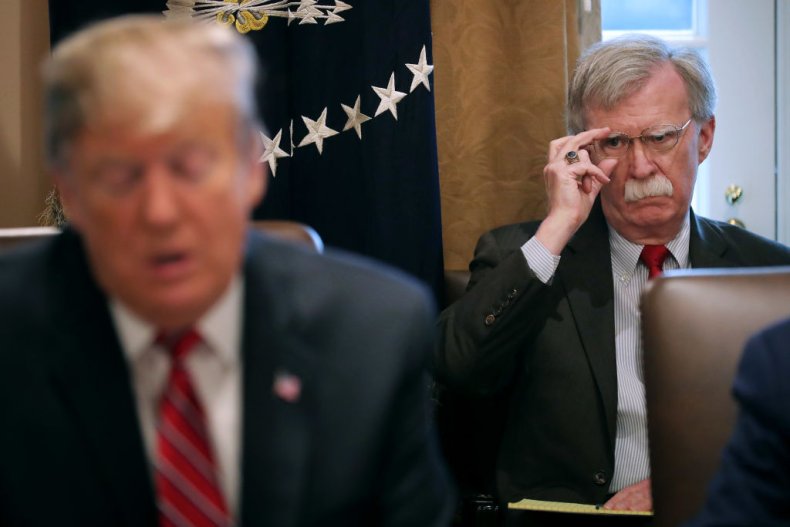 Prior to Kilmeade's defense of the former diplomat, the show's hosts discussed a tweet by Trump from Wednesday evening. In that post, the president shared a clip of Bolton discussing Ukraine policy in an interview from August. During the clip, the former Trump adviser doesn't mention any concerns about administration policy.
"GAME OVER," Trump quipped in the tweet.
Democrats have urged Republicans to vote with them to call Bolton and other administration officials to testify in the ongoing Senate trial. Some moderate Republicans, particularly Senators Mitt Romney of Utah and Susan Collins of Maine, have publicly said they are interested in hearing from further witnesses, including Bolton.
But at least four GOP senators would need to vote alongside all 45 Democrats and the chambers two independents to garner a simple majority of 51 in favor of calling new witness testimony. While several other Republicans have previously suggested that they'd be open to hearing from additional witnesses, it's still unclear whether such a measure would pass.
The vote on whether to call Bolton and others to testify is expected on Friday. If that vote fails, Senate Majority Leader Mitch McConnell, a Kentucky Republican, is expected to quickly move to acquit Trump.
According to a Quinnipiac University poll released on Wednesday, a full 75 percent of registered voters want the Senate to call additional witnesses. That number includes nearly half – 49 percent – of Republicans, 75 percent of independents, and 95 percent of Democrats.