Fox News Host Says Eric Trump Makes 'Really Good Point' About Cutting Foreign Business Ties, Even Though it's False
Fox News hosts on Wednesday backed what are essentially lies by President Donald Trump's second eldest son Eric Trump that he and his siblings stopped doing business overseas when their father entered the White House.
"I thought Eric Trump had a really good point. Listen to this," Fox & Friends co-host Ainsley Earhardt said on Wednesday morning before airing a clip of the president's son providing inaccurate information to make himself appear more ethical than former Vice President Joe Biden's son Hunter Biden.
"The difference between us and Hunter is when my father became commander-in-chief of this country, we got out of all international business, right?" Eric Trump said in the clip of the interview he had with Fox News earlier in the week. "When his father became vice president of the United States, he got into international business, that's the difference."
Eric Trump was responding to Hunter Biden's sit-down interview with Good Morning America in which he denied any wrongdoing by becoming a Ukrainian gas company board member while his father was vice president. President Trump phoned Ukraine's president to investigate the matter for corruption, which led House Democrats to launch an impeachment inquiry on him.
Trump's second eldest son, who is executive vice president of the Trump Organization, continued, "my father got into politics to drain the swamp, to stop this nonsense from happening. Exactly what you see here because it's rampant."
"He made so many sacrifices, including putting a ton of his own money into it and including losing an absolute fortune because of it. All these guys are cashing in on it. They are taking board positions," Eric Trump said, a hit at Hunter Biden. "They're cashing in on their father. Do you see me on my boards? Do you see Don on any boards? Do you see Ivanka on any boards?"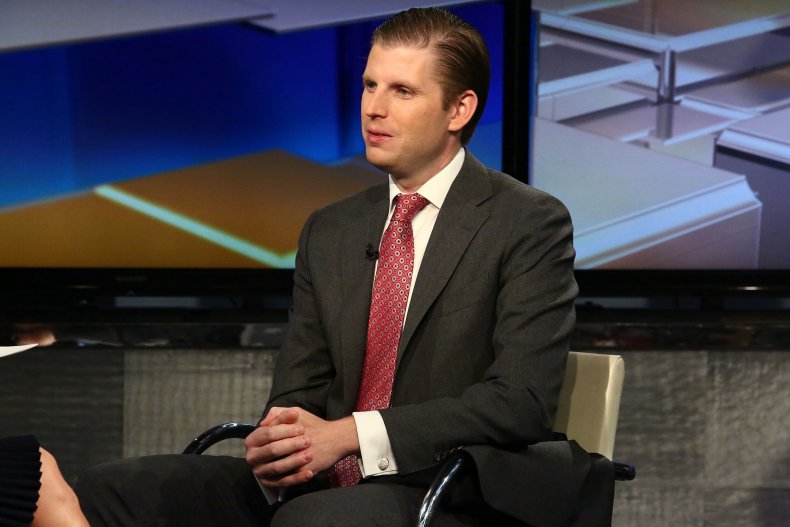 Fox & Friends co-host Steve Doocy also sided with Eric Trump, commenting, "OK, so clearly there is a double standard when it comes to that, but we have heard about the hypocrisy before."
A spokesperson for the watchdog group Citizens for Responsibility and Ethics in Washington was not available for comment on Wednesday afternoon, but in an email cited several of CREW's tweets showing Eric Trump's claims are wrong.
"Not only have the Trump sons continued to advance foreign business deals while their father is in office, President Trump continues to profit from them," CREW tweeted on Wednesday morning, along with a New York Times story stating that "the Trump sons have plenty" of foreign business ties.
CREW tweeted late last month that despite the Trump Organization's promise of "no new foreign deals will be made whatsoever during the duration of President Trump's presidency," the company had just celebrated getting approval to build a second golf course, 500 residential homes, retail shops and a sports facility in Scotland.
The Times story stated that the president's eldest son Donald Trump Jr. traveled to Jakarta in August to help start two Trump resorts in Indonesia and to India to land a Trump luxury condo development deal.
Fox News did not immediately respond to a request for comment from Newsweek on Wednesday.