Fox News Host Grills Democratic Senator Over Mueller Probe: 'Did Your Party Go Too Far' With Collusion Talk?
Fox News host Pete Hegseth asked Senator Chris Coons (D-DE) on Saturday whether the Democratic Party went "too far" in accusing President Donald Trump of cheating and collusion during the 2016 presidential election.
During an appearance on Fox & Friends, Coons discussed the latest news surrounding special counsel Robert Mueller's highly-anticipated two-year Russia investigation, the completion of which was announced Friday by Attorney General William Barr.
"If collusion is not found in a report that is released, would you acknowledge that your party, the Democrats, have overreached in the way they've alluded to, suggested, even accused this president of cheating, of colluding with Russia? Did you go –– did your party go too far?" Hegseth asked the Democratic lawmaker.
Coons responded by pointing out that he made references to both "allegations" and "suspicions" surrounding the investigation while discussing it over the past two years in an effort to be balanced. "I tried to be careful in the last two years and make sure that in every reference I made I talked about allegations, I talked about suspicions, and I think it's important that we not go too far in how we handle as a party investigations into the president going forward," the senator said.
"There are unresolved matters, there's matters that may not have reached the level of a chargeable offense against individuals, but there's still worthy of oversight and I frankly think one of the things that has made Washington difficult to work in in the eight or nine years I've been there is the ways in which both parties have at times sort of beaten a particular point to death," Coons added.
Co-host Ed Henry then asked the Democratic lawmaker whether there should be oversight into James "Comey and others at the FBI and the Justice Department in terms of the dossier and all that."
Coons responded: "My recollection is that the inspector general of the department has looked at allegations around, for example, Strzok and Page and the exchanges between them by text and that there has been an appropriate consideration of whether or not there was improper motives at the FBI at the beginning of this investigation."
As America waits for Barr to make the first release of information from Mueller's report into Russian election meddling and possible collusion between Trump campaign officials and the Kremlin in the 2016 presidential election, new reports have emerged indicating that the summary will not be out until at least Sunday.
During a conference call on Saturday afternoon, Speaker of the House Nancy Pelosi told Democrats that she will push back on attempts by the Justice Department to limit disclosure of the probe to a highly classified setting and call for full "transparency" of the investigation.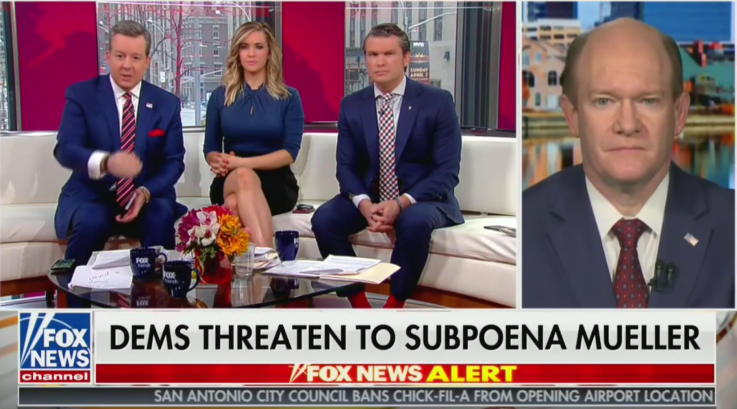 Fox News Host Grills Democratic Senator Over Mueller Probe: 'Did Your Party Go Too Far' With Collusion Talk? | U.S.