Fox News host Sean Hannity took the stage with President Donald Trump at a campaign rally in Missouri Monday—despite insisting he would not do that in a tweet earlier that day.
Trump had previously promised supporters Hannity would be among the special guests attending—but Fox News and Hannity had issued statements distancing themselves from the campaign, insisting he would just be there to cover the rally for his show.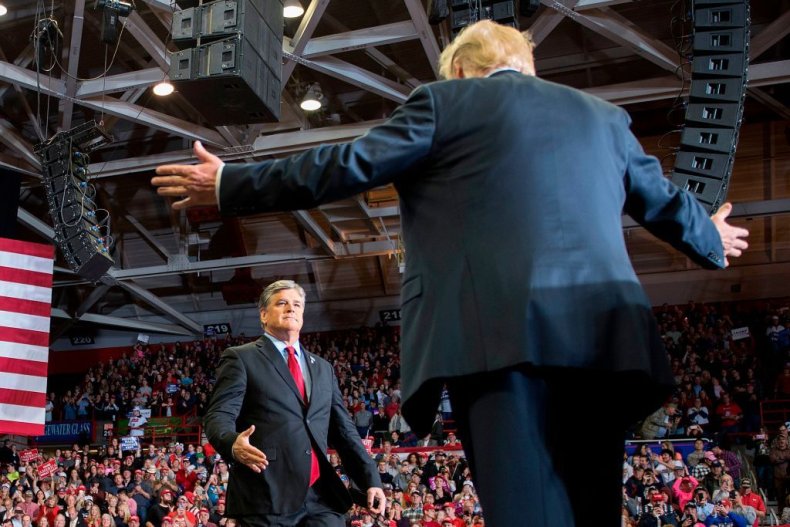 "To be clear, I will not be on stage campaigning with the president. I am covering [the] final rally for the show," tweeted Hannity.
But when Trump called Hannity to the stage Monday, the Fox host joined him, embracing the president. Hannity then launched an attack on one of the president's favorite targets, the media.
"By the way, all those people in the back are fake news," said Hannity, referring to members of the media covering the event.
Moments after inviting Hannity on stage, Trump invited another Fox News host, Jeanine Pirro, to join him.
"They're very special, they've done an incredible job for us. They've been with us from the beginning," Trump told supporters.
Immediately before the president appeared, Hannity had warmed up the crowd from the sidelines, urging them to vote Trump, according to reports.
Liberal media watchdog Media Matters, in a statement to the Associated Press, condemned Hannity for campaigning for the president, saying it risked undermining the free press.
"Either Fox News lied all day about their direct collaboration with the Trump campaign, or the network simply doesn't have any control over Sean Hannity," said Angelo Carusone, president of the watchdog. "This is a problem. It's dangerous for democracy and a threat to a free press."
Fox News rebuked Hannity in 2016, after the host appeared in a political video for Trump. The network said at the time the host would "not be doing anything along these lines for the remainder of the election."
A Fox News spokesperson described Hannity's appearance on stage with the president as an "unfortunate distraction."
"FOX News does not condone any talent participating in campaign events. We have an extraordinary team of journalists helming our coverage tonight and we are extremely proud of their work. This was an unfortunate distraction and has been addressed," said the spokesperson in an emailed statement.
*This article was updated on November 6 with a statement from Fox News.