Fox News Host Jeanine Pirro Blasts Dianne Feinstein and Her 'Unhinged Lunatic Demon Rats'
Judge Jeanine Pirro attacked Sen. Dianne Feinstein and her "pack of demon rats" on her Fox News show yesterday over her decision to disclose a letter accusing U.S. Supreme Court justice nominee Brett Kavanaugh of sexual misconduct.
During Justice With Judge Jeanine on Saturday night, Pirro asserted that Kavanaugh is "innocent until proven guilty," a statement she deemed "clear, unambiguous words written in stone."
"So, Dianne, let me get this—another Democrat, a congresswoman from California, no less, forwards a July letter to you containing a completely unsubstantiated claim that Supreme Court nominee Brett Kavanaugh, while in high school, tried to force himself on another high school student forty, I said forty, years ago," she said. "So why are we just hearing about this now?"
"Your audacity to destroy and try to destroy a man with impeccable credentials, harm his family and shift the burden of proof to the accused by alleging one of the most of heinous allegations imaginable shows your complete disregard for truth, justice and the American way," she continued.
Pirro then questions Feinstein's motives and asks her why she waited for two months to act on the information.
"Dianne, you've been sitting on this letter for almost two months," she said. "You let Brett Kavanaugh go through days of Senate hearings, meetings with senators, answer an additional 263 pages of 1,300 follow-up written questions—and now you want to character assassinate this man who has undergone six FBI full-field investigations where no such allegation resembling this anonymous nonsense has ever surfaced?"
"Dianne, as a ranking member of the committee interviewing Kavanaugh, how could you possibly let a moment pass without addressing the issue, and Kavanaugh is right in front of you and would have had the opportunity to respond?," Pirro continued.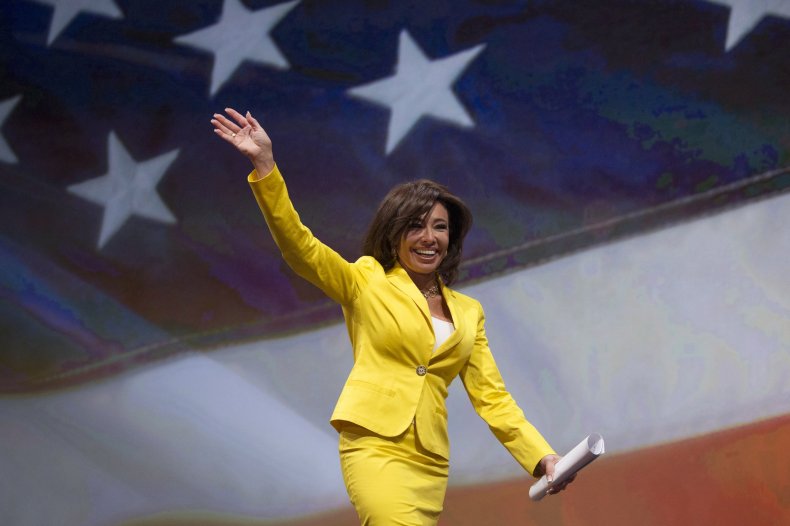 "Dianne, why would you even wait to send it to the FBI? Was it because nothing in your pack of demon rats—that's right, I said demon rats—a.k.a Democrats' bag of tricks was working against Kavanaugh," she added.
"What were you thinking?" Pirro asked. Are you stupid? Why would you let it go?" Pirro concluded. "Let me tell you why you let it go, Dianne: Because even you didn't believe it. What other reason could there be?"
In the segment, Pirro also called Corey Booker and Kamala Harris "unhinged lunatics."
Earlier this week, Feinstein, a Democrat on the Senate judiciary committee, revealed that she had disclosed information to federal investigators about Kavanaugh.
The New Yorker fleshed out details of the sexual assault misconduct against the Supreme Court justice nominee, which reportedly occurred while he was studying at Georgetown preparatory school. The alleged victim, who has not been identified, claims she was attending a nearby school at the time when Kavanaugh covered her mouth with is hand and held her down.
In a statement on Friday, released by the White House, Kavanaugh denied the sexual assault allegations.
"I categorically and unequivocally deny this allegation. I did not do this back in high school or at any time," he said.