Fox News Host Jeanine Pirro Compares Parler Deplatforming to Nazis' Kristallnacht
Fox News' Jeanine Pirro on Monday likened technology companies' severance of ties with Parler, a right-wing social networking platform, to the Nazis' Kristallnacht attack that destroyed Jewish communities.
During an appearance on Fox & Friends, the conservative television host discussed Parler's recent deplatforming. "Well, look, they gave us a taste of this preelection when they suppressed the Hunter Biden story," Pirro said.
Here, she seemed to reference Twitter's and Facebook's decisions to restrict further dissemination of an October New York Post report, which claimed to detail email correspondence between President-elect Joe Biden's son and a Ukrainian business partner in 2015. Both companies regulated how users could share the article on their respective platforms, citing fact-checking concerns and doxing policies. The Post's article was met with widespread skepticism, and many questioned the accuracy of its reporting.
"And now that they've won, what we're seeing is a kind of censorship that is akin to a Kristallnacht, where they decide what we can communicate about," Pirro continued, drawing a comparison between Parler's shutdown and the Nazis' attack on Jewish persons and property on November 9 to 10, 1938.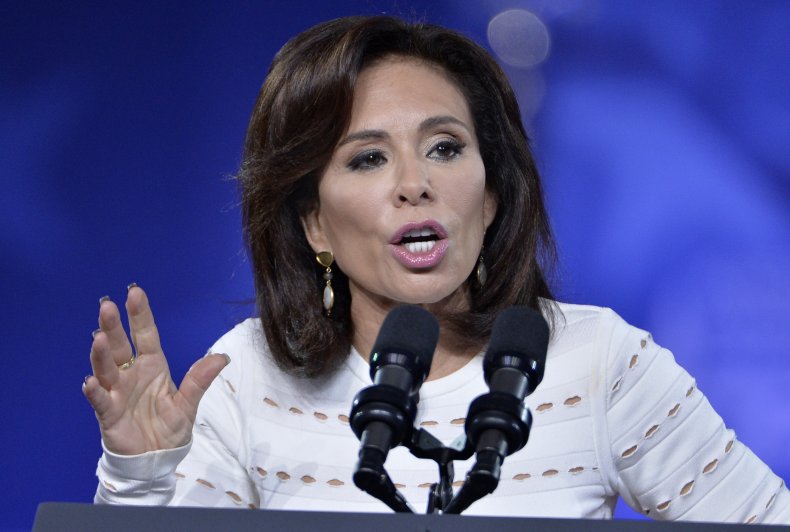 Kristallnacht, which translates as "the Night of Broken Glass," targeted Jewish residences and establishments throughout Germany, Austria and German-occupied portions of the former Czechoslovakia. Jewish businesses, homes, schools, hospitals and synagogues were defaced or demolished, and at least 91 people were killed.
Parler's departure from the internet space was finalized early Monday morning, after Amazon suspended the app from its web-hosting services. The technology company said its decision followed the identification of 98 posts shared to the social platform that promoted violence.
"Recently, we've seen a steady increase in this violent content on your website, all of which violates our terms. It's clear that Parler does not have an effective process to comply with the AWS terms of service," Amazon Web Services said in an email notifying Parler of the decision. BuzzFeed News originally obtained and reported the email's contents. An Amazon spokesperson verified the email in comments to Newsweek Monday.
Parler, billed as a "free speech" platform devoid of censorship, became a home for far-right social media users previously banned from traditional networks, like Twitter and Facebook, for rule violations. Its suspension from Amazon's hosting service does not necessarily mean it will remain offline permanently. Securing a new web-hosting agreement would allow Parler to become active again.
The app's suspension from Amazon followed its removal from app stores operated by Google, Amazon and Apple in the aftermath of last Wednesday's riot at the U.S. Capitol. President Donald Trump's supporters, many of whom are prominent Parler users, stormed the federal complex, and some of those who participated in the attack coordinated through Parler.
Pirro condemned the rioters in televised remarks on Saturday, calling their actions "deplorable, reprehensible [and] outright criminal."
After her Fox & Friends comments on Monday morning garnered criticism online, Pirro addressed the appearance in a statement shared to Twitter later that afternoon.
"Although book burning started earlier, Kristallnacht included the destruction of Jewish stores, homes & synagogues containing rare Jewish books & Torahs. My reference was in context of books," she wrote. "The Holocaust was the greatest hate crime the world ever tolerated. I abhor all violence."
Fox News deferred to Pirro's statement on Twitter in response to Newsweek's request for comment.
This story was updated at 1:39 p.m. to include Fox News' response to Newsweek's request for comment and at 5:49 p.m. to include Jeanine Pirro's tweet on Monday afternoon.
This story was updated on Tuesday, January 12, at 2:07 p.m. ET to note that Fox News referenced Pirro's tweet in a subsequent response to Newsweek after it initially declined to comment.