Fox News Host Laura Ingraham Shares Anti-Immigrant Tweet by Neo-Nazi David Duke Ally
Updated| Fox News host Laura Ingraham caused controversy Sunday by sharing a tweet by a British neo-Nazi with links to former KKK Grand Wizard David Duke.
In the tweet, Ingraham, who has nearly 2 million Twitter followers, shared a video from the account of Mark Collett, apparently showing trash and people sleeping on the streets.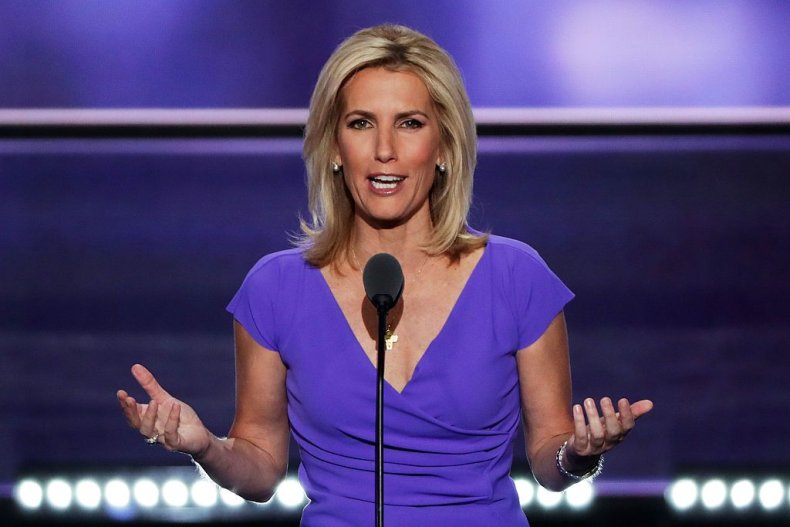 "How about a romantic walk through Paris? This is what third world immigration does to Europe," the tweet by Collett read. Ingraham, who hosts a show on Fox's 10 p.m. slot, shared Collett's tweet with the message: "Can anyone verify if this is really a video of Paris?"
The Ingraham tweet was first flagged by liberal media watchdog Media Matters.
Collett is the former chairman of the youth division of the British National Party, a British ultranationalist political group. He was eventually dismissed from the party after making death threats to its then leader.
He has expressed his admiration for Adolf Hitler; declared AIDS a "friendly disease because blacks, drug users and gays have it"; and referred to immigrants as "cockroaches."
Collett is a frequent guest on Duke's radio show, in which the two propagate anti-Semitic and other racist views, and Duke has endorsed Collett's book.
MSNBC host Chris Hayes criticized Ingraham for sharing the video. "Gonna share this one next?" he tweeted, about a video in which Collett compared refugees to raccoons.
A spokesman for U.K. charity Hope not Hate, which campaigns to counter racism, described Collett as a "Jew-hating Hitler admirer." The spokesman told Newsweek, "He's on the extreme end of the far right in Britain and no-one in their right mind should, even out of ignorance, share his stuff on social media.
"He currently collaborates with ex-KKK leader David Duke and has a long and inglorious history on the fringes of the white supremacist scene in the UK."
Ingraham in a tweet Monday denied endorsing the video.
"When I ask abt the veracity of a video from a Twitter acct that posted it, I am NOT endorsing the source, esp. one with which I am unfamiliar! It's critical that more of us Q the authenticity of random videos on line that our followers retweet w/out verifying," she wrote.
President Donald Trump in November retweeted videos posted on the social network by British ultranationalist activist Jayda Fransen, which allegedly showed Muslims committing crimes. At least one of the videos did not show what Fransen claimed it did. Trump's tweets were condemned by British Prime Minister Theresa May, whom Trump then attacked for rebuking him.
In September, Fox News host Tucker Carlson was criticized for promoting Gab on his show, a social media platform favored by the alt-right. In December, he apologized for sharing a tweet from the white nationalist and anti-Semitic Red Ice website.
* This story was updated on Monday, January 8, to include a tweet by Laura Ingraham in which she denied endorsing Collett's account.