Fox News Host Likens Pelosi Ripping Up Trump's Speech to "Ripping Up" African Americans
A Fox News host said that House Speaker Nancy Pelosi essentially "ripped up" black Americans who have benefited from President Donald Trump's policies when she tore apart her printed version of his speech after he concluded his State of the Union address Tuesday night.
The host, Melissa Francis, made the remarks on an episode of Outnumbered, during a discussion of the State of the Union address that the president delivered Tuesday evening.
Francis told the other panelists that she felt when Pelosi tore up the paper, it seemed as if she were tearing up everyone who had been mentioned in the president's speech—including the African Americans that Trump mentioned.
"When Nancy Pelosi rips up that paper, she is ripping up those African Americans who are the beneficiaries of these policies," Francis said.
Journalist Justin Baragona shared a clip of Francis' words on social media.
In the speech, Trump did specifically bring up black Americans—mostly to note how their economic status had improved under his administration.
"The unemployment rate for African Americans, Hispanic Americans, and Asian Americans has reached the lowest levels in history," he said, according to a transcript of his remarks from The Washington Post. "African American youth unemployment has reached an all-time low. African American poverty has declined to the lowest rate ever recorded."
According to a fact-check of the State of the Union conducted by NBC News, unemployment rates for black Americans, Hispanics and Asian Americans have indeed dropped. However, NBC News reported that "all three have since ticked up slightly" in recent months.
He also said that his administration had "achieved record and permanent funding" for historically black colleges and universities.
Lastly, also took time in his speech to honor Charles McGee, a veteran of the armed forces who was in attendance. McGee was a member of the Tuskegee Airmen, a segregated unit of African American fighter pilots renowned for their decorated service in the European theater of World War II. McGee also saw service in the Korean War and the Vietnam War.
Still, African American support for the president has remained low. According to a Washington Post–Ipsos poll released in January, 77 percent of black Americans think Trump deserves "only some" or "hardly any" credit for the drop in the unemployment rate of black adults. The same poll found that 80 percent of African Americans agreed that Trump is "a racist."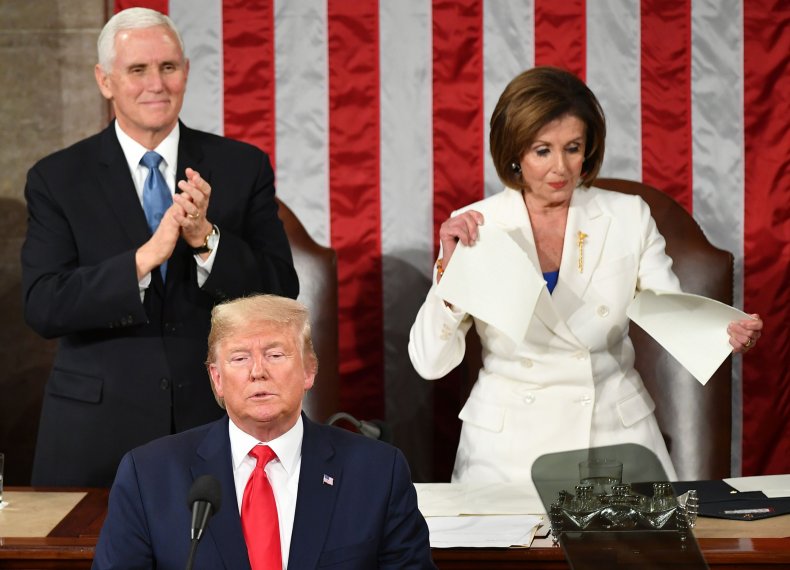 Francis' remarks echoed a tweet from the official White House account Tuesday evening. The tweet also likened Pelosi's tearing of the paper the speech was printed on to people mentioned in the speech:
"Speaker Pelosi just ripped up: One of our last surviving Tuskegee Airmen. The survival of a child born at 21 weeks. The mourning families of Rocky Jones and Kayla Mueller. A service member's reunion with his family," the tweet read. "That's her legacy."
Francis was not the only public figure to criticize Pelosi for her actions—former House Speaker Newt Gingrich and Kellyanne Conway, Trump's senior counselor, also called for her to be formally censured for her public display of discontent with the president's speech.