Fox News Host Says Impeachment Is Like a 'Broadway Show,' Claims Witnesses Have 'Already Auditioned Behind Closed Doors'
A Fox News host labeled the ongoing impeachment proceedings a "Broadway show"—claiming that the witnesses have "already auditioned behind closed doors."
The claim is the latest Conservative critique of the ongoing impeachment inquiry, as public hearings prepare to enter their second week.
It follows criticism that the closed-door hearings were "Soviet-style" and was followed by a refusal from Republicans to tune in to the hearings once they became public.
Now, Fox News host Pete Hegseth said there is no need to pay attention to the testimonies of eight witnesses that will be given this week because "we already know what they have to say."
"They've already auditioned behind closed doors," he said.
"We have a transcript and they've released the transcript so you don't even have to watch it to know what they're going to say.
"It's such a sham-show. It's like an audition for a Broadway show."
The claim comes as the impeachment probe prepares to question Gordon Sondland, the U.S. ambassador to the European Union, who has been nicknamed one of President Donald Trump's "three amigos" for his efforts in pressuring Ukrainian President Volodymyr Zelenskiy to investigate Joe Biden, a possible presidential candidate in 2020.
His testimony could be among the most pivotal as the probe decides whether Trump abused his power.
Following his closed-door hearing, Sondland revised his testimony and admitted telling a top Ukrainian official that the release of delayed military aid was "likely" dependent on the country publicly announcing investigations into Biden.
Last week, David Holmes, a U.S. embassy official in Kyiv, also testified that he overheard Sondland speaking to Trump one day after his call with Zelenskiy.
Holmes said he overheard the president talk about "the investigations" and Sondland said the Ukrainians would proceed with them.
This week's proceedings will commence on Tuesday, starting with Lieutenant Colonel Alexander Vindman. As the director for European affairs on the National Security Council (NSC), Vindman was one of those listening in on Trump's July 25 call with Zelenskiy that prompted the original whistleblower complaint.
His testimony is considered important because it refutes the Republican claim that all the allegations of quid-pro-quo come from "second-hand hearsay."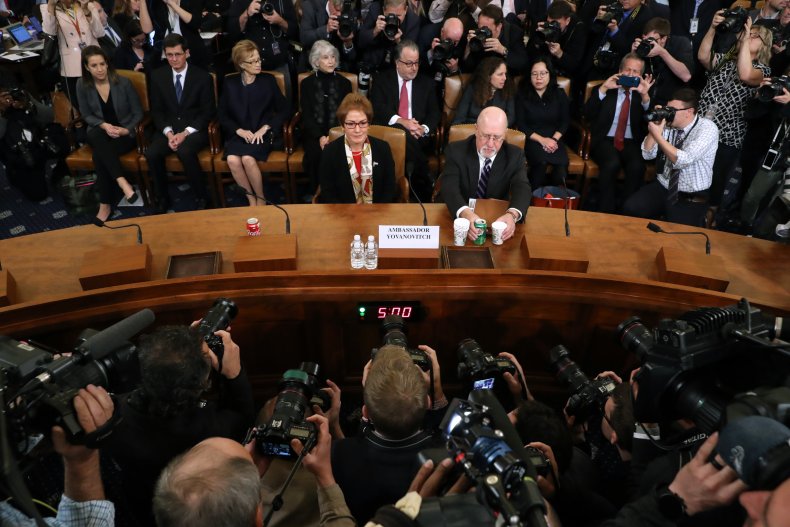 Vindman will be followed by Jennifer Williams, a special adviser on Europe and Russia issues to Vice President Mike Pence, who also heard the July 25 call. She described it as "inappropriate" and for Trump's "personal political agenda".
Kurt Volker, the former special representative to Ukraine, will also testify Tuesday and will be followed by another individual who listened to the 25 July call—the NSC's outgoing senior director of European and Russian affairs, Tim Morrison.
Aside from Sondland, Wednesday's hearings will comprise of Laura Cooper, deputy assistant secretary of defense for Russia, Ukraine and Eurasia; David Hale, undersecretary of state for political affairs; and Fiona Hill, a senior director for Russia at the NSC.
The Republicans requested that two additional witnesses be placed on the list of hearings—the unknown whistleblower and Hunter Biden—however Democrats are expected to overrule those requests with a committee vote.