Fox News Host Praises Trump's Work Ethic on His Last Full Day: 'He Watches Every Show'
Fox & Friends co-host Ainsley Earhardt listed watching television shows as part of outgoing President Donald Trump's strong work ethic during a Tuesday interview.
The Quote
Trump is expected to leave the White House on Wednesday after one term as president. Many observers have criticized Trump's response to the COVID-19 pandemic, his repeated baseless claims of election fraud and his alleged incitement of a January riot at the U.S. Capitol. Despite his impending exit from the Oval Office, Trump still has a base of supporters and defenders within the GOP.
During a Tuesday conversation with Fox News contributor Kristen Soltis Anderson, Earhardt touted Trump's work methodology. "They'll criticize President Trump but no one can argue—he is a worker," Earhardt said. "He doesn't drink alcohol. He stays up late at night. He watches every show. He's working. He got to work immediately."
Why It Matters
Trump has often touted his accomplishments in office, particularly in regards to the U.S. economy. During a pre-recorded farewell address released Tuesday, Trump said that the incomes of Americans "soared, wages boomed, the American Dream was restored, and millions were lifted from poverty in just a few short years" during his administration.
"It was a miracle," Trump added.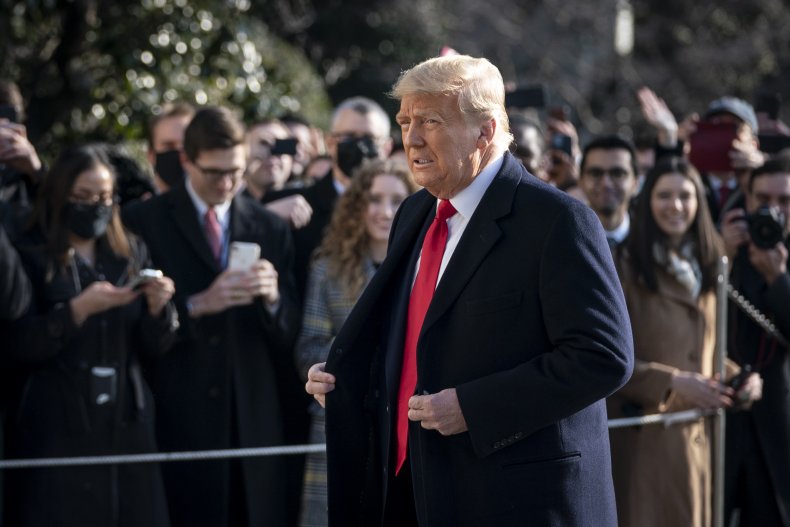 During his time in office, Trump often commented on news media, referring to some reporting about his administration as "fake news." Trump also suggested that coverage of his presidency would provide higher ratings for news networks than their coverage of the administration of President-elect Joe Biden.
"I get very big ratings," Trump said during a November 2020 rally in Pennsylvania. "If I didn't get big ratings, there'd be no way of communicating. Oh, and they're gonna miss those ratings someday."
Opposing View
Trump seemed to withdraw from his responsibilities as president following his loss to Biden. On multiple consecutive days, Trump's schedule as released by the White House Press Secretary's Office said that Trump would "work from early in the morning until late in the evening" and "make many calls and have many meetings."
At a January press conference in Delaware, Biden harshly rebuked Trump's response to the Capitol riot. "He exceeded even my worst notions about him," Biden said. "He's been an embarrassment to the country."
Trump was also impeached by the House in January for his alleged role in inciting violence amid a mob of his supporters that breached the Capitol building. Members of Congress were certifying Biden's victory in the Electoral College when the riot occurred. Trump did not go on record as strongly condemning the violence at the Capitol, which left 5 people dead, until the day after the riot.
Fox News, which had regularly broadcast stories supportive of Trump and his administration, suffered a drop in ratings after Biden's victory. According to Reuters, Fox News slipped from holding the number one spot to number three for the week of January 4-January 10 behind CNN and MSNBC.
CNN garnered an average of approximately 4.2 million primetime viewers while MSNBC obtained roughly 3.8 million. Fox News gained an average of 3.2 million primetime viewers during the same period.
Newsweek reached out to the White House for comment.