Fox News host Mark Levin suggested, without any evidence, that he believed former special counsel Robert Mueller could have "onset dementia," criticizing his Wednesday testimony before Congress and arguing that the ex-FBI director should have never been appointed to oversee the investigation into Russian election interference.
Asked during a Thursday segment of Fox News morning program Fox & Friends whether he found Mueller's reluctance and hesitation to answer questions asked by lawmakers frustrating, Levin placed his glasses on his face and let out a loud breath.
"Look, I've seen people with onset dementia," the right-wing commentator said. "I'm not going to mock this man. He obviously shouldn't have been there. He should never have headed this investigation. I'm not making allegations. I'm not trying to be provocative, but the idea that [former Deputy Attorney General] Rod Rosenstein appointed this man to head this office is an outrage and he's the one who ought to be questioned about that."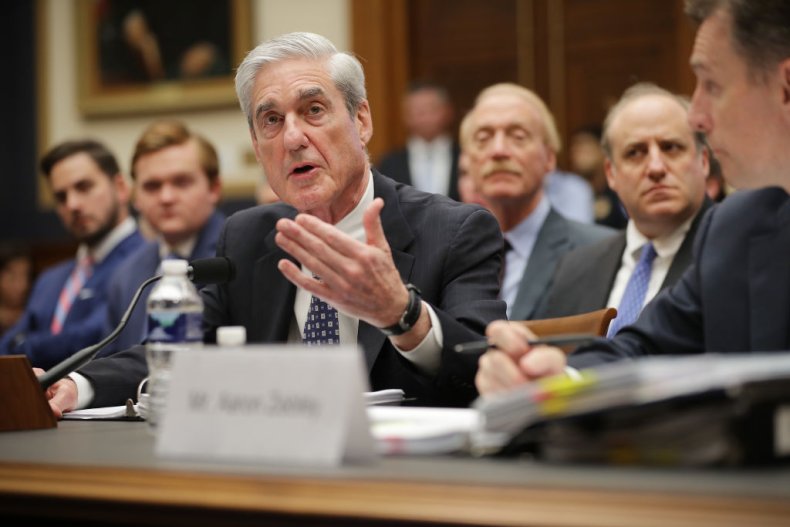 Levin, who hosts the weekly show Life, Liberty & Levin, argued that "everyone around Mueller knew he was incapable of doing what he did." He then attacked the former special counsel's "number two hatchet man [Andrew] Weissmann." The Fox News host accused Weissmann, who had a management role in the special counsel's investigation, of bringing in "a nest of leftists" to work as part of the probe's team.
Fox & Friends co-host Ainsley Earhardt jumped in after Levin finished attempting to discredit the Mueller probe, pointing out that there wasn't any evidence or reports that Mueller was in poor health. "Mark, we haven't confirmed anything about his health," she said. "There hasn't been anything released about that."
Levin cut her off, saying he "agreed." However he added: "but he [Mueller] made it quite obvious." Earhardt then responded by saying Mueller wasn't "on his game," suggesting that people should "pray for" the former special counsel and his family.
Mueller, 74, testified before the House Judiciary and House Intelligence committees on Wednesday about his 22-month long investigation into Russian meddling in the 2016 presidential election. The investigation, which concluded in March, confirmed there was "sweeping and systematic" interference by Russia in an effort to favor President Donald Trump over Democratic presidential candidate and former Secretary of State Hillary Clinton.
As Earhardt pointed out, there are no credible reports of Mueller being unwell in any way. The special counsel did often appear to stumble throughout the congressional hearings. He, on multiple occasions, seemed unfamiliar with some of the material in his report and also repeatedly asked representatives to say their questions a second or even third time. To critical viewers, he seemed to struggle through the hearings while constantly referring lawmakers back to the report, providing essentially no new details about the investigation.
However, Mueller did confirm that Trump had mischaracterized the report's findings to the American people. He stated that the document did not exonerate the president, despite Trump and his supporters repeatedly saying it was a "total exoneration." He also asserted that the investigation was not a "witch hunt," as Trump and his supporters have constantly referred to the probe.
"The hearings were a disaster for Robert Mueller & the Democrats," Trump tweeted on Wednesday. "Nevertheless, the Fake News Media will try to make the best out of it!"
He later praised Levin's Thursday appearance on Fox & Friends, writing: "Mark Levin on @foxandfriends now! Great guy."