Fox News Host Says Democrats Only Care About Politics And Power As Sean Hannity Claims Journalism Is Dead
Fox News host Sean Hannity declared journalism dead during a Saturday appearance on the network's weekend show Watters' World.
Hannity appeared on the show as part of a segment with Watters' World host Jesse Watters where the two media personalities discussed the Mueller report, the ongoing criticism of Fox News by other media members and the state of the Democratic party.
The interview began with discussion about the Mueller report with Hannity saying that a cast of people assembled at Fox News has "been right for over two years, unpeeling the layer of the onion, breaking stories: FISA abuse, FISA court fraud, rigging an investigation for a favored candidate; we've been proven right."
Hannity added that people had to hate it when he and his "ensemble team" have been right, going on to talk about his hours of "straight-news reporting" after Watters pointed out criticisms that Hannity is an opinion host rather than a journalist.
Hannity added that he is "sad for the country" and doesn't want what happened with President Donald Trump and the investigation of Special Counsel Robert Mueller to happen again.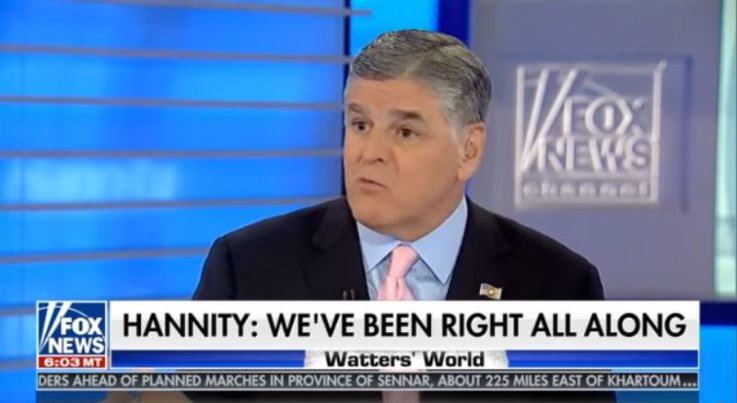 "The lesson is simple, believe in due process," Hannity said, listing a domestic violence case against Michael Avenatti and allegations of rape against Supreme Court Justice Brett Kavanaugh as examples where he felt the news media rushed to judge and turned out to be incorrect.
Hannity later said that Democrats aren't interested in the issues but power and politics, citing a lack of "I believers" regarding accusations of rape and sexual assault against Virginia Lieutenant Governor Justin Fairfax, a Democrat.
Watters asserted that Democrats are remaining quiet because Virginia is an important state and they don't want to lose it in upcoming elections before saying that the media "doesn't hold them accountable — the Democrats — like they do Republicans. They're all on the same side and they'll let it slide."
"Journalism is dead," Hannity replied. "I said it in 2007."
Earlier in the segment, Hannity cautioned Watters about gaining a voice as critics will want to silence him.
"They are gonna want to crush you, they want to silence every voice they don't like and agree with," Hannity told Watters. "Tucker [Carlson], Laura [Ingraham], me, we've all…Rush [Limbaugh], [Glenn] Beck, Mark [Levin], [Bill] O'Reilly you name it… Everybody gets, you get big enough, your voice becomes powerful they want to silence you. They want to destroy this channel."
Watters later asked Hannity if left-wing media and other critics would give him "the benefit of the doubt."
Hannity said no, saying that Watters would be deemed "guilty by accusation."
Though Fox News continues to top the ratings for cable news regularly, journalism has seen a steady decline in the past decade. According to a Pew Research study, available jobs in the industry declined 23 percent between 2008 and 2017. For jobs in the newspaper sector, the decrease was 45 percent, with 71,000 workers employed in 2008 to compared to 39,000 in 2017.
According to the study, television newsrooms represent 33 percent of all journalism jobs in 2017 compared to 25 percent in 2008.
Fox News Host Says Democrats Only Care About Politics And Power As Sean Hannity Claims Journalism Is Dead | U.S.