Fox News Host Says GOP Senator Is 'Disingenuous' About Why He Supports Amy Coney Barrett's Nomination
Fox News anchor Chris Wallace called Senator Ben Sasse, a Nebraska Republican, "disingenuous" after he suggested he wasn't counting on Amy Coney Barrett voting to overturn Roe v. Wade or support abortion restrictions.
Following the death of Supreme Court Justice Ruth Bader Ginsburg on September 18, President Donald Trump moved quickly to nominate Barrett, a deeply conservative judge, to replace the liberal icon. Democrats have balked at the decision, as the judge's confirmation would give conservatives a six-to-three majority on the court. Meanwhile, Senate Republicans plan to move forward rapidly with Barrett's confirmation, hoping to finish the process before the election on November 3.
"The reason I think that Amy Barrett is a rock star and should be on the court is because she's very clear about her jurisprudence," Sasse said during an interview with Fox News Sunday. "She's an originalist and she's a textualist, which means when she puts on her black robe in the morning, she knows what it is to be a judge—and that is to cloak your personal preferences," he said.
"Our judges don't wear red or blue jerseys," the GOP senator insisted, adding that neither Democrats nor Republicans should try to "divine the future of how they'll rule on particular cases."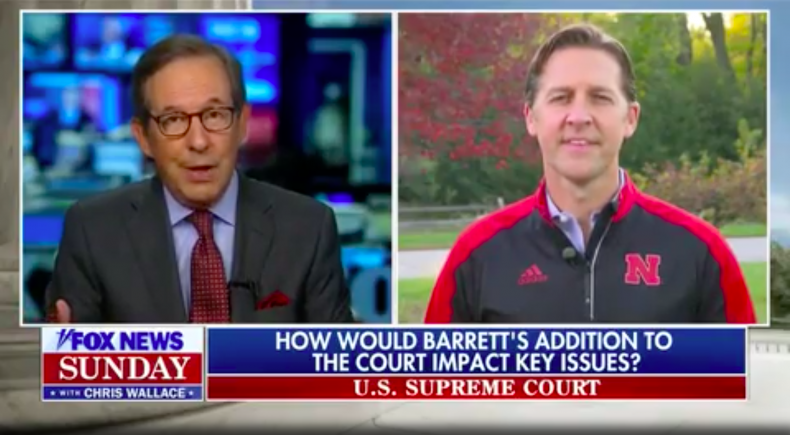 "Senator, with respect, you're being a little disingenuous here," Wallace cut in. "You're very staunchly pro-life, that's a perfectly legitimate position to take. But aren't you in fact counting on Justice Barrett to—to either end or restrict Roe v. Wade, and wouldn't you be terribly disappointed if she failed to do that?"
Sasse responded by pointing out that the job of a senator, like himself, is different than that of a judge. He said if Barrett were running for elected office "she would have policy positions that she would lay out to the American people." The Republican lawmaker asserted that this is not the job of a judge and criticized the "politicization" of the court.
James Wegmann, director of communications for Sasse, later wrote to Newsweek in an email that "the Senator's characterization of Judge Barrett's judicial philosophy is exactly in line with the judge's prepared opening statement for the upcoming Senate Judiciary Hearing." Wegmann pointed Newsweek to a particular line in Barrett's statement, which says: "The policy decisions and value judgments of government must be made by the political branches elected by and accountable to the People. The public should not expect courts to do so, and courts should not try."
Democratic lawmakers have strongly criticized Barrett's nomination, raising concerns that the justice could vote against the Affordable Care Act, LGBTQ rights and reproductive rights. Many are concerned about the future of Roe v. Wade in particular. In 2013, Barrett signed her name to an ad that called "for the unborn to be protected in law."
Meanwhile, it appears that Barrett's confirmation is likely to succeed. Republicans currently control the Senate by a margin of 53 to 47, and only two GOP lawmakers have signaled that they may oppose Barrett's nomination prior to the election.