Fox News Host Says Harvey Weinstein Story Never Would've Happened If Hillary Clinton Was President
Fox News host Greg Gutfeld claimed on Tuesday that the New York Times would never have reported on Harvey Weinstein's sexual assault allegations if Hillary Clinton had been elected president in 2016.
Gutfeld made the while discussing the New York Times' credibility after the newspaper's latest story on Supreme Court Justice Brett Kavanaugh during a segment on Fox News' The Five.
"I'm surprised because the New York Times is highly profitable these days," co-host Juan Williams said.
"Oh yeah, it makes a lot of money lying to America," Gutfeld said.
"I'm just saying, they're hardly dead," Williams responded, "I mean, that's a big company."
"Imagine if Hillary had been president?" co-host Jesse Watters said. "They wouldn't be making that much money."
"That's what I think," Williams noted.
Gutfeld chimed in: "Well, Harvey Weinstein would be happy because that story wouldn't have happened."
A recent The New York Times article, published over the weekend, highlighted Kavanaugh's history of sexual assault allegations. In the article, Deborah Ramirez, who alleged that Kavanaugh drunkenly pulled down his pants and thrusted his genitals towards her face at a party during his time as a student as Yale University, detailed her encounters with the judge to reporters. The report comes after several allegations of sexual misconduct was levied against Kavanaugh by multiple women during contentious Senate hearings last year before his appointment to the Supreme Court.
According to the Times, the FBI failed to investigate at least one of the allegations against Kavanaugh during his time at Yale. One of his former classmates, Max Stier, reportedly reached out to authorities during Kavanaugh's confirmation process and detailed an incident where he witnessed the judge thrusting his genitals into a young woman's hands while intoxicated.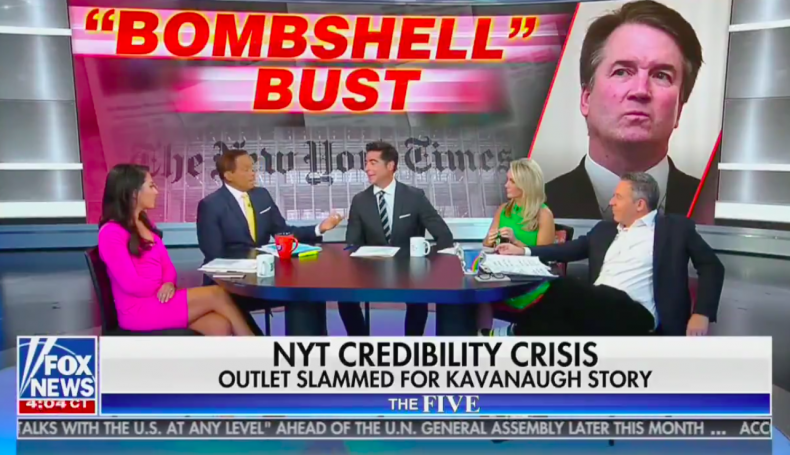 The previously undisclosed story echoes Ramirez's allegation against Kavanaugh. The FBI also reportedly declined to interview other witnesses that Ramirez offered, whom she claimed would have proven her story.
"We corroborated the story with two officials who have communicated with Mr. Stier," the Times said, "the female student declined to be interviewed and friends say she does not recall the episode."
Kavanaugh firmly denied he sexually assaulted women during high school and university years throughout his confirmation hearing.
Although the Times story launched fresh calls for Kavanaugh's impeachment, Trump quickly moved to defend his Supreme Court pick. "Brett Kavanaugh should start suing people for libel, or the Justice Department should come to his rescue," the president tweeted on Sunday. "The lies being told about him are unbelievable. False Accusations without recrimination. When does it stop? They are trying to influence his opinions. Can't let that happen!"