Fox News Anchor Says Trump's Claims on Immigrants and Drugs Are Wrong in On-Air Fact Check
Fox News anchor Shepard Smith disputed claims made by President Donald Trump during his first prime-time Oval Office address on Tuesday evening. It was an unusual sign of disagreement between the president and his favorite TV news channel.
Following the president's address, Smith fact-checked a number of the claims made by the president, such as the murder rates among undocumented immigrants and drug flows, which did not match government statistics, Mediaite reported.
Read more: Donald Trump did not want to give national speech, New York Times journalist says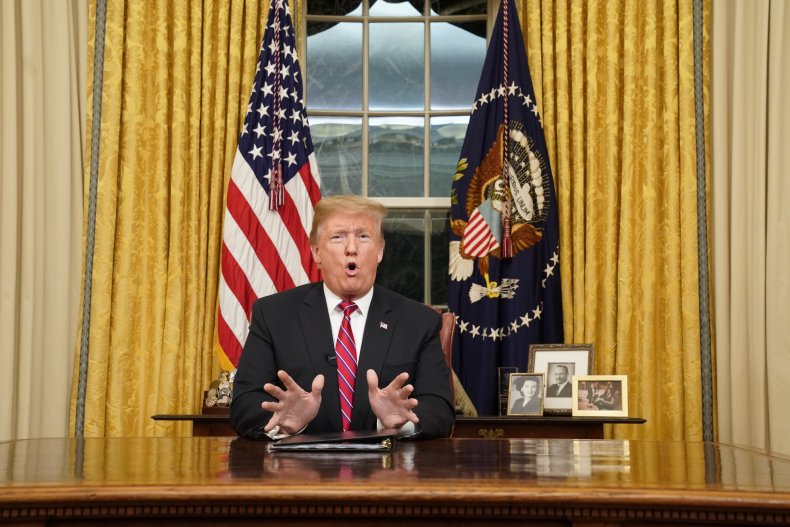 Trump spoke of a "humanitarian and security crisis" at the border and invoked examples such as that of a police officer "savagely murdered in cold blood by an illegal alien."
The president also described how drugs such as methamphetamine, heroin and fentanyl were coming through the southern border, and that this would be halted by a wall that would pay for itself through a new trade deal with Mexico.
Smith said: "The government's statistics show that there is less violent crime by the immigrant population than by the general population. He talked about drug crossings at the border, but government statistics show that much of the heroin actually comes not from over the unguarded border but through [legal] ports of call.
"He talked about undocumented crossings over the past months; in fact the number of undocumented crossings over the southern border has been steadily down over the last 10 years, and the government reports that there is more outward traffic than inward traffic."
Smith also questioned Trump's claim that it was law enforcement professionals who wanted the wall.
"As for the trade deal he mentioned with Mexico, which he said would pay for the wall, that trade deal is not yet complete. The president said law enforcement professionals have requested the $5.7 billion; it is he who requested it and it is he who said he would own the shutdown."
Smith then asked Fox host and commentator Chris Wallace whether the president's address had made the case for Trump's base. Wallace said that it had but that this would not be enough because the Democrats still won the House in the midterms with the border wall being Trump's main issue.
Last weekend, Wallace clashed with White House press secretary Sarah Huckabee Sanders when she claimed that nearly 4,000 known or suspected terrorists had entered the U.S. illegally and that the most vulnerable point of entry was the southern border.
Wallace said on Sunday: "The State Department says there hasn't been any terrorists that they've found coming across the southern border with Mexico. It's by air, it's by land and it's by sea. It's all of the above."