Fox News Host Says Trump 'Needs' Virtual Debate, Despite President Blasting Format and Saying He Won't Attend
Despite President Donald Trump's rejection of a virtual format for next week's presidential debate, Fox News host Brian Kilmeade said Trump "needs" it.
"I do think overall though, the president needs this," Kilmeade said Friday morning. "I think the president might be in a situation where virtual could actually be better for him."
Trump refused to partake in a virtual debate after the Commission of Presidential Debates (CPD) announced on Thursday that the second presidential debate scheduled for October 15 would be held virtually due to coronavirus concerns.
"I'm not going to do a virtual debate," the president told Fox Business host Maria Bartiromo. "I'm not going to waste my time at a virtual debate."
The second of three debates is expected to "take the form of a town meeting, in which candidates would participate form separate remote locations," rather than in Miami, according to the CPD.
The format change comes less than week after Trump and first lady Melania Trump tested positive for COVID-19.
After spending the weekend at the Walter Reed National Military Medical Center in Bethesda, Maryland, Trump secured a doctor's note from White House physician Dr. Sean Conley that the president will be "safe to return to public engagements" as early as Saturday. Conley said Trump has completed his treatment, although the White House has yet to release Trump's last negative test result.
Shortly after, Trump's re-election campaign pushed to revert back to an in-person debate for next week's event. "There is therefore no medical reason why the Commission on Presidential Debates should shift the debate to a virtual setting, postpone it, or otherwise alter it in any way," the campaign said in a statement.
Newsweek reached out to the Trump campaign for comment, but did not hear back before publication.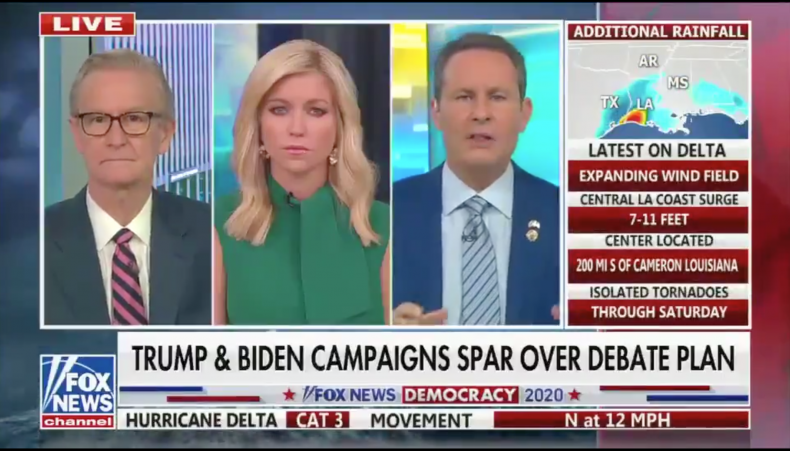 Although Kilmeade said Trump should participate in a virtual debate, he argued the CPD should have publicly deliberated the decision to make the second debate virtual.
The head of the CPD, Frank Fahrenkopf, said he spoke with both campaigns before the announcement, but that the commission "did not consult with them." Fahrenkopf said the decision was supported by its health advisers from the Cleveland Clinic.
"I just find it totally bizarre that the debate committee would not meet and discuss this first," Kilmeade said.
"For the longest time, we heard this is the date that this is happening. You know the Trump team came out and said 'I'm a little concerned.' In this era of early voting, by the time these debates start, millions of people would have voted already. By the time the last one's done, about 25 to 50 million people have voted already," he added.
He argued that the commission has the budget to increase coronavirus safety measures, such as limiting the number of people who attend and expanding testing, which would allow for the event to remain an in-person event.
This would not be the first time there has been a virtual presidential debate. Richard Nixon and John F. Kennedy were in two different locations during the third debate during the 1960 election.