Fox News Host Says Trump Would Do Himself and GOP a 'Solid' to Condemn White Supremacism: 'Just Say It Out Loud'
Fox News host Brian Kilmeade said President Donald Trump would do both himself and the Republican Party a "solid" if he clarified his statements from Tuesday's presidential debate, in which he did not explicitly condemn white supremacism.
"The president would do himself a solid and do his party a solid to take some time today to clarify about his white supremacist statement," Kilmeade said during a segment on Fox and Friends Thursday morning. "Whether it was the franticness of the night, but a lot of people are forced to explain it today that have other things to do—like, for example, get his Supreme Court justice confirmed."
A number of Republicans in Congress, who are planning to vote on Trump's Supreme Court nominee Judge Amy Barrett in the upcoming weeks, have responded to the president's decision to sidestep the question during the debate.
The Senate's lone Black Republican senator, Tim Scott of South Carolina, said he thinks Trump "misspoke."
"I think he should correct it. If he doesn't correct it, I guess he didn't misspeak," Scott said Wednesday.
Senate Majority Leader Mitch McConnell said Scott "said it exactly correctly."
"It was unacceptable not to condemn white supremacists, and so I do so in the strongest possible way," McConnell added.
Senator Lindsey Graham also took to Twitter to agree with Scott and called on Trump to "make it clear Proud Boys is a racist organization antithetical to American ideals."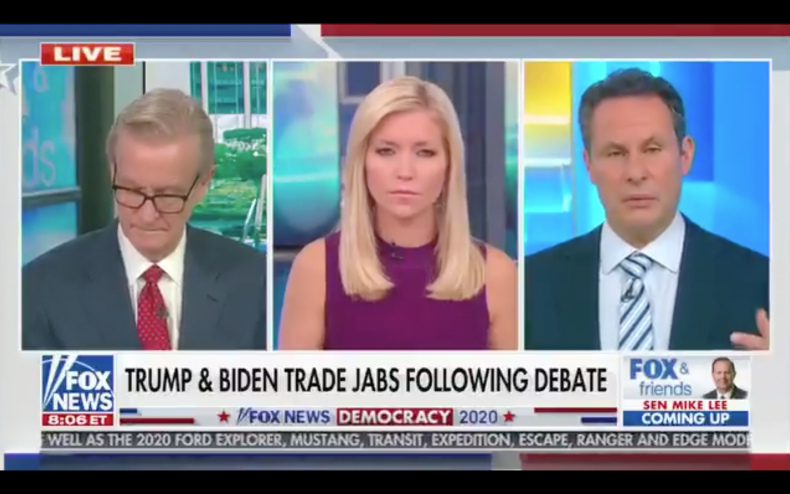 However, the GOP argued that Trump did in fact condemn white supremacists on Tuesday by mentioning the Proud Boys specifically.
"President Trump said he was willing to denounce hate groups, and he did so, singling out the Proud Boys. He has disavowed and denounced these terrible organizations multiple times as a candidate, and as President," Paris Dennard, RNC Senior Communications Advisor for Black Media Affairs, said in a statement sent to Newsweek.
"Instead of focusing on ANTIFA, who has been rioting, looting, and destroying Black communities and businesses all over America, the media is trying to create another false narrative about President Trump who's Platinum Plan calls for ANTIFA and the KKK to be labeled terrorists organizations," Dennard added.
On Tuesday, when asked by debate moderator Chris Wallace if he would condemn white supremacy from the national stage, Trump responded: "Proud Boys – stand back and stand by. But I'll tell you what, somebody's got to do something about ANTIFA and the left."
The president decision to not explicitly condemn white supremacists drew widespread criticism.
Kilmeade pointed out on Thursday that it has long been the history of presidents to publicly denounce such groups.
"You have the president going back to the 1980s condemning white supremacists, David Duke and all those people," he said. "Just say it out loud."
However, when Trump was asked about his response at the White House on Wednesday, he denied knowing the group he named.
"I don't know who the Proud Boys are. You'll have to give me a definition because I really don't know who they are. I can only say they have to stand down and let law enforcement do their work," the president told reporters.
Kilmeade's continued criticism of Trump comes a day after the Fox host said the president "ruined the biggest layup in the history of debates by saying—not condemning white supremacists."
"That's like: are you against evil? Why the president didn't just knock it out of the park, I'm not sure," he added in a Wednesday appearance on Fox and Friends.
Kilmeade called on Trump to "clarify that right away."