Fox News Host Says Woman Who Grabbed Pope Francis' Hand 'Deserved to Get Choked Out By His Security Guards'
During Thursday's episode of Fox News' The Five, guest host Emily Compagno said that the woman who strongly grabbed Pope Francis' arm and tugged on it on New Years' Eve "deserved to get choked out by his security guards."
Guest co-host Tom Shillue said that the woman "deserved a little slap" and that he "didn't like the way she yanked on [The Pope]."
Compagno said, "she deserved to get choked out by his security guards."
"I thought that was so violent on her part, so uncalled for. And you know what, he's the Pope, he's not Jesus. So I am fine with him saying 'get off me,' he doesn't need to apologize."
"The only sliver on the other coin would be that he can let the security guards be the bad guy for him and he can just kind of be like the victim for a second and let them do their job. But if that had been me in his shoes, she would be," Compagno said, taking a moment to gesture with the tip of her index finger, "out of there."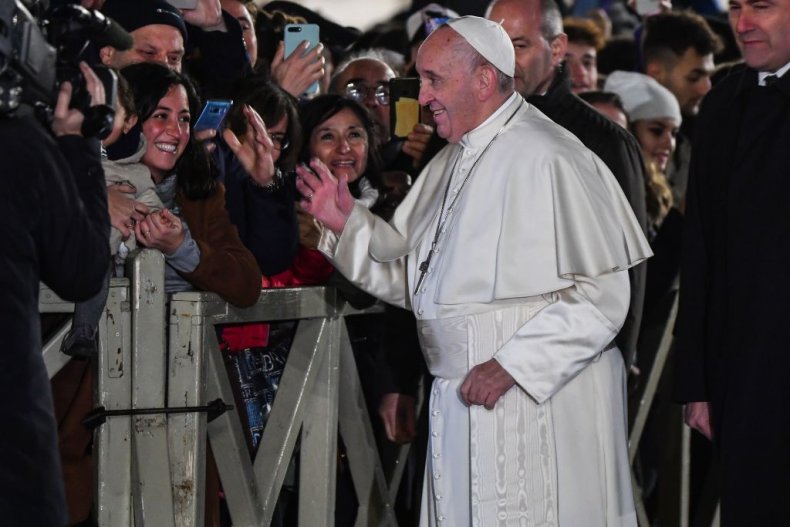 Attorney and ex-professional cheerleader Compagno, a frequent guest host on The Five, also often appears on other Fox News programming as an analyst.
The incident, which occurred as Pope Francis admired the nativity and Christmas decorations posted in Vatican City, caused him to lose his balance and earned a rebuke from him for the woman who had grabbed him enthusiastically.
Pope Francis apologized on Wednesday for slapping away the woman.
"Love makes us patient. Many times we lose our patience," he said in a statement. "I do, too, and I say 'excuse me' for the bad example."
It's currently unknown what the woman who grabbed Pope Francis said to him, but in video footage of the incident she can be seen making the sign of the cross before grabbing him. She has not yet been identified, and there is no word what, if any, legal censure she may face for touching Pope Francis without his permission.
In March, Pope Francis ran up against some mild controversy after video of him denying supplicants' attempts to kiss his ring went viral.
"The Holy Father told me that the motivation was very simple: hygiene," Vatican spokesman Alessandro Gisotti told reporters at the time of the incident. "He wants to avoid the risk of contagion for the people, not for him."
Pope Francis has allowed others to kiss his rings since that incident.
Newsweek reached out to representatives for Fox News for comment, but did not hear back at press time.