Fox News Host Sean Hannity Has Seen His Ratings Fall as Buddy Donald Trump's Problems Have Increased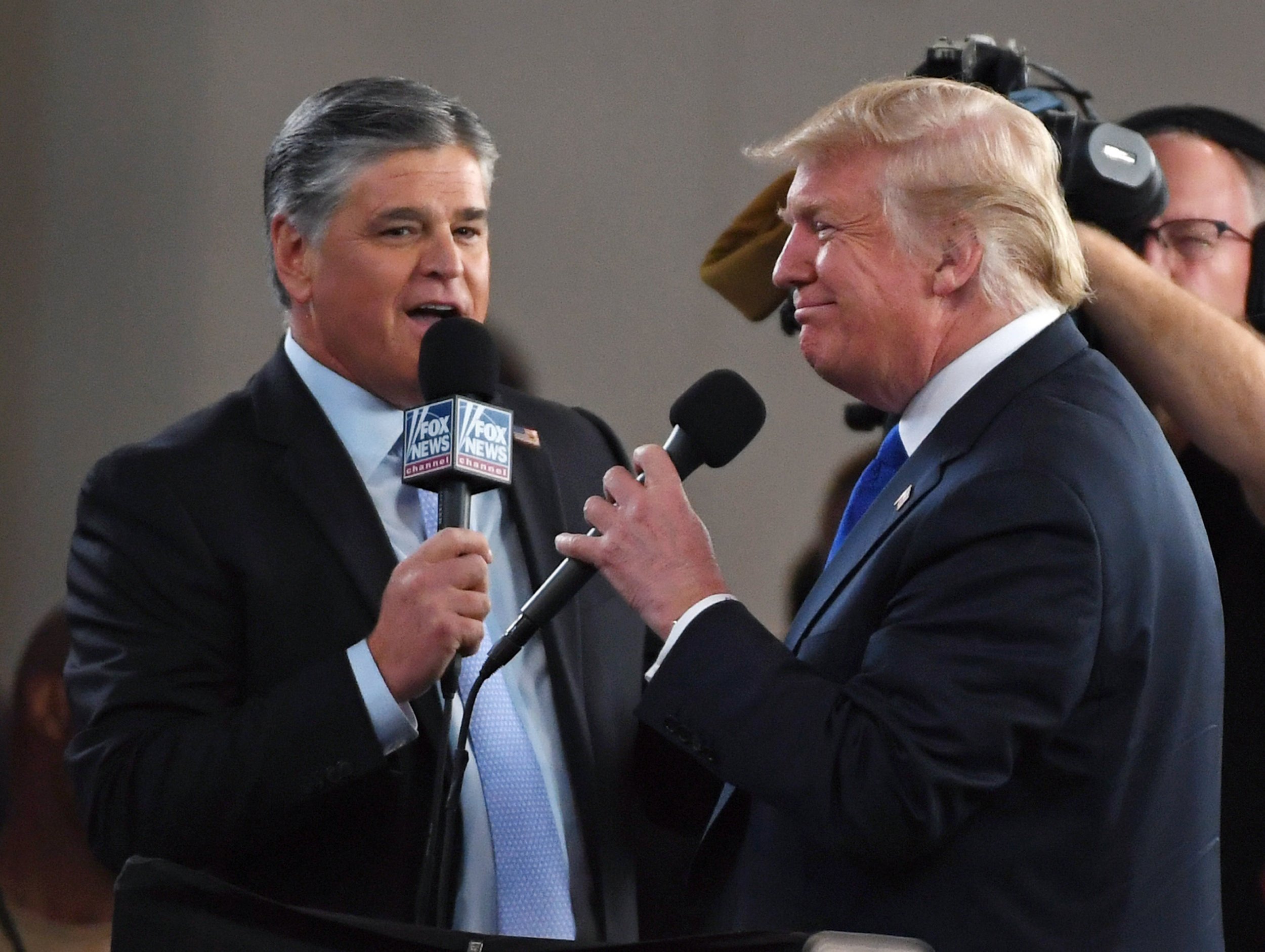 President Donald Trump's mounting troubles are taking a toll on his buddy, Fox News host Sean Hannity.
Ratings for Hannity have been dipping since the November midterm elections and as special counsel Robert Mueller's investigation produces more developments damaging to Trump.
Hannity's show had an average of 2.76 million viewers from the midterms until December 17, a 19 percent drop compared to the previous month, according to the Nielsen company. Hannity's ratings fell 30 percent among viewers who were 25 to 54 years old, which is the demographic most valued by advertisers. Meanwhile, CNN's Chris Cuomo's and MSNBC's Rachel Maddow's ratings were up in those areas.
The good news for Hannity is that with 3.3 million viewers, he still finishes the year as Fox's most popular on-air host for the second consecutive year and the top program on cable news. Hannity was also up 17 percent in total viewers and 11 percent in that key demographic since last year. He has been off air since December 14 for the holidays.
But Maddow beat Hannity this month, a reversal from October, when Hannity had about 1 million more viewers a night as controversy around Trump's Supreme Court justice pick Brett Kavanaugh dominated headlines.
"I think it's a reflection of the mood of his audience," longtime NBC executive Mark Lukasiewicz, dean of Hofstra University's communications school, told the Associated Press. "They can't be happy with what is coming out of Washington every day."
As Trump faces more bad news, Hannity has spent more time bashing commentators on the left for their stories critical of the president and bringing up controversy from Trump's Democratic predecessors.
"Even hard-core Trump fans are starting to put Hillary Clinton in their rear-view mirrors and say, 'It's been two years,'" Lukasiewicz said.
The future isn't looking much brighter for Trump—or Hannity—with special counsel Robert Mueller's investigation heating up, a drop in the stock market that could threaten the strong economy, and an ongoing partial government shutdown.
Fox News did not immediately respond to a request for comment on Thursday from Newsweek. In a December 12 press release, Fox News CEO Suzanne Scott and President Jay Wallace lauded the network's ratings: "FOX News continues to outperform other basic cable networks, proving once again that our news coverage and premiere team of journalists and opinion hosts are the best in the business."
Hannity is so close to Trump that he has Trump's direct phone line at the White House, and the two talk a few times a day, New York magazine reported in May. The magazine also noted that Hannity typically calls Trump after 10 p.m., after he is off the air.
Trump invited Hannity to join him onstage at a campaign rally in Missouri in November, drawing criticism from many viewers and some from Fox News.
Updated 12/27 9:30 p.m.: This story was updated to include a press release statement from Fox News.