Fox News Host Sean Hannity Says Donald Trump Open to Using DACA as Bargaining Chip to Get Wall and End Shutdown
Fox News host Sean Hannity on Thursday said that President Donald Trump was open to negotiate a deal on Deferred Action for Childhood Arrivals (DACA) in exchange for the border wall with Mexico and an end to the government shutdown.
But Hannity spoke out of turn. Trump has not proposed using DACA—former President Barack Obama's landmark immigration policy that allowed undocumented immigrants brought to the United States as children to apply for deportation protection and renewable two-year work permits—as a bargaining chip. Trump repealed DACA in September 2017.
The Fox News host brought up the DACA deal while bashing House Speaker Nancy Pelosi for going to Hawaii for a few days of vacation over the Christmas holiday.
"Pelosi, while the president was in the White House waiting to negotiate, you were thousands of miles away, laughing it up, life of luxury, playing politics with border security," Hannity said, adding that a California police officer had allegedly been killed by an undocumented immigrant from Mexico over the weekend.
"Now this is not day one of the Pelosi shutdown. She obviously doesn't care about DACA, because the president is willing to negotiate DACA, he's willing to talk about Dreamers," Hannity said.
DACA recipients are often called Dreamers, after the DREAM Act—Development, Relief and Education for Alien Minors—which offered many of the same protections but never passed Congress.
"He's willing to put the safety and security of the American people first. What she's not doing, is this in America's best interest? Is this in your best interest, your family's best interest?" Hannity continued. "Seems like people only care about destroying and hating President Trump and everyone around him. Hating Trump now happens every second of every minute of every hour of every day."
New York Times White House correspondent Maggie Haberman said on CNN Friday that it was "not a coincidence" that Hannity made the claim that Trump could be open to negotiate on DACA.
"There's not much indication the president would actually support it, but I don't think it's an accident Sean Hannity said that," she said. "Sean Hannity is saying something that the president at least wants to float out there and see what will come back, but again, Democrats are not in the mood for that deal."
Haberman explained that a deal on DACA had been on the table a year ago, and that it could come back if there were a high number of recipients, but that it was unlikely that it would surpass the number and demand from last year.
Trump's repeal of DACA in 2017 directed the Department of Homeland Security to reject related work authorization applications received after September 5, 2017; reject application renewals after October 5, 2017, from DACA recipients with their protected status expiring through March 5, 2018.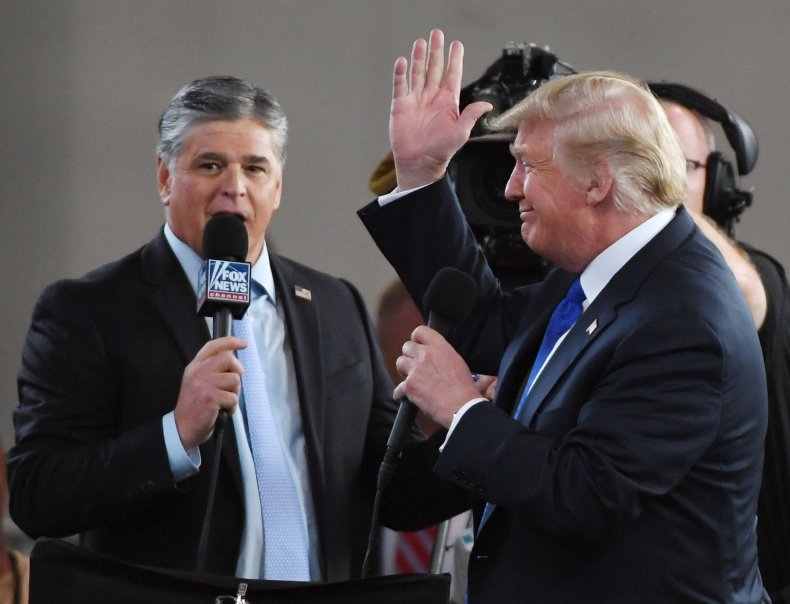 Hannity has such a close relationship to Trump that he reportedly has the president's direct phone line and talks to him several times a day, often after his show. Trump repeatedly tweets, and often seems to make policy, based on what he sees and hears on Fox News.