Fox News anchor Eric Shawn responded to Donald Trump's election fraud allegations on Sunday afternoon, highlighting the lack of existing evidence to support claims that unlawful conduct distorted results in his Democratic opponent's favor.
Intertwining additional commentary into an interview with Axios political reporter Hans Nichols, which focused on Trump's conversation with Fox Business host Maria Bartiromo hours earlier, Shawn noted that the president's efforts to challenge election results have earned widespread backlash.
"It seems that we have a president who, he can't wrap his brain or mind around the fact that, he can't process the fact that someone who he thinks is so inferior to him won the election," the Fox anchor said, after initially referencing comments from critics who "say [Trump's] claims are unsupported, reckless and incendiary."
Speaking to Bartiromo Sunday morning, Trump reiterated unproven accusations that seek to undermine the race's outcome during his first televised interview since Election Day. While addressing his campaign's efforts to challenge election procedures in court, Trump rattled off a number claims that echoed those frequently shared by his legal team as well as himself on social media.
Trump suggested that ballots cast by Republican voters were discarded in parts of the country where a majority of support went to Joe Biden, and "massive dumps of votes" were illegitimately tallied after November 3. Those are two of many unfounded theories he shared during the interview.
"All this despite the fact that his campaign has failed to prove any of this in court," Shawn pointed out during his afternoon segment. "In fact, your government, election officials experts and others, many of them Republican, including Trump-appointed officials, say that the president's claims are false and unsubstantiated."
The president's re-election campaign filed numerous lawsuits targeting elections departments across the U.S., alleging misconduct and intentional manipulation in legal complaints that became more convoluted as the weeks drew on. While Trump, his campaign and a revolving group of attorneys representing the suits continue to insist that there is clear evidence to back their accusations, none has materialized in court.
Several of Trump's statements to Bartiromo Sunday morning are easily refutable. He claimed, for example, that ballots tabulated after initial tallies were reported on election night indicated unlawful procedures took place.
"You just take a look at...every swing that we're talking about, and they did these massive dumps of votes," Trump said. "And all of a sudden, I went from winning by a lot to losing by a little."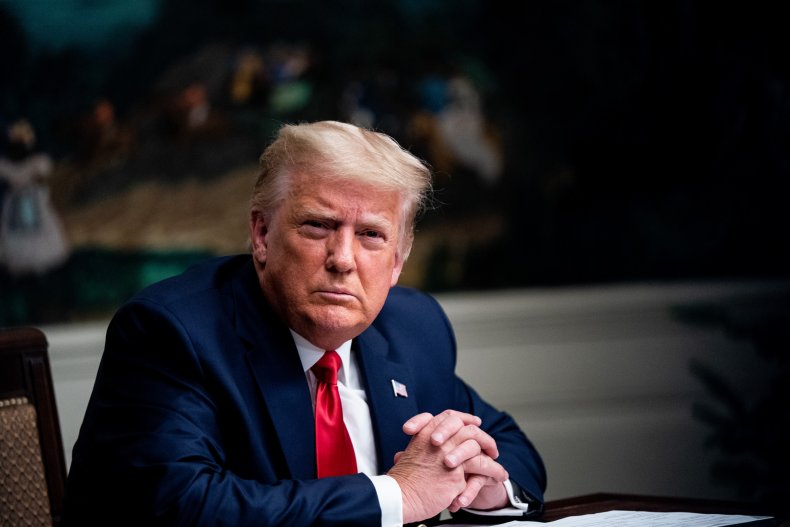 Shawn fact-checked this particular comment during his subsequent Fox News segment.
"Officials say these are not illegal dumps," he explained. "That's just the counting of the many mail-in ballots that re-entered into the computer system."
Trump seemed to take an early lead in certain swing states, such as Georgia, where ballots tallied soon after polls closed showed the Republican incumbent with a majority of votes. However, as election workers continued to tabulate absentee ballots, the sitting president's lead narrowed. In Georgia, the influx of mail ballots counted in the aftermath of Election Day eventually gave Biden a marginal advantage.
Newsweek reached out to the Trump campaign for comment, but did not receive a reply in time for publication.