Fox News Host Stunned 57% of Americans Don't Approve of Trump's Iran Policy: 'Media Jamming This Narrative Down Their Throat'
A Fox News co-host said Monday that the news media's coverage of President Donald Trump's ordered strike against Iranian military commander Qassem Soleimani is the reason a slight majority disapprove of current U.S. policy towards Iran.
Brian Kilmeade, who co-hosts the morning show Fox & Friends with Ainsley Earhardt and Steve Doocy, made the remarks during an interview with Newt Gingrich, an author and historian who also served as Speaker of the House from 1995 to 1999.
As the co-hosts discussed a finding that said that 57 percent of Americans do not approve of the way the president has handled U.S. policy in Iran since the beginning of the year, Kilmeade said that it was "amazing" that the number was so high.
"[It's] just amazing that 57 percent of the country don't approve of the president's Iranian policy, which shows you, in many ways, that the media is just jamming this narrative down their throat, that some are digesting," he said.
Newsweek has reached out to Kilmeade for further comment.
Tensions between the U.S. and Iran have heightened since Trump ordered a drone strike on January 3 to kill Soleimani, an Iranian general whom the president claimed was plotting to kill U.S. troops and civilians. In response to the attack, Iran threatened retaliation against the U.S., leading some to comment that war between the two nations was imminent.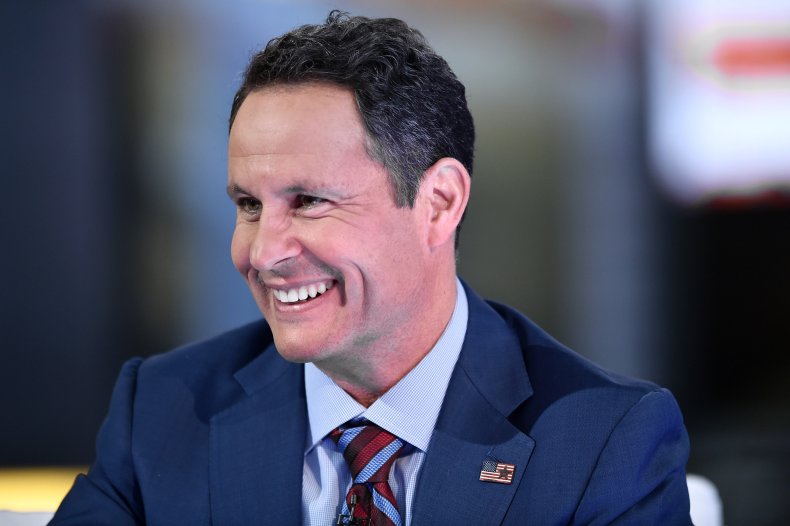 Kilmeade most likely referred to the results of a USA TODAY/Ipsos Poll that were released on Thursday. That nationwide poll, conducted among 1,005 adults between January 7 and January 8, found that 57 percent of Americans would "oppose U.S. airstrikes on targets in Iran including cultural and world heritage sites." Twenty-two percent of respondents said they opposed the policy and 21 percent were undecided, according to the same poll.
The poll question itself referred to an earlier announcement from Trump on January 4, in which he warned that the U.S. had targeted "52 Iranian sites," some of which were "at a very high level & very important to Iran & the Iranian culture." If Iran were to attack in Americans or American assets, Trump wrote, those targets would "BE HIT VERY FAST AND VERY HARD."
Additionally, 57 percent of respondents of another poll, a HuffPost-YouGov survey released on January 6, said that they believed the strike that killed Soleimani made military conflict between Iran and the U.S. "more likely than before."
Newsweek reached out to Fox News for clarification of what poll Kilmeade referenced in the segment, but did not hear back in time for publication.
In the end, however, Gingrich told the Fox & Friends hosts that he believed that Trump's truth would ultimately win in the battle against news media bias.
"Well, I think that this is a perennial challenge for Trump, but the truth is that despite all the biases in the news media, eventually the truth does get through," Gingrich said. "The president has had an amazing ability to go toe-to-toe with the entire liberal media and win the fight."