Fox News Host on Trump Impeachment: If It Were Obama, GOP Would 'Say Hang Him From the Highest Tree, This Is Treason'
Fox News political analyst Juan Williams has claimed that if Former President Barack Obama were facing the same impeachment claims as President Donald Trump, Republicans would accuse him of treason and "hang him from the highest tree."
Williams said that tribalism was blinding supporters of Trump and suggested that Republicans have a double standard when it comes to accusations of wrongdoing. He made the claims on Tuesday's edition of The Five, after his co-hosts Greg Gutfeld and Jesse Watters attacked the inquiry and House Intelligence chair Adam Schiff (D-Calif.), who is leading the investigation.
"I don't think having Schiff run this thing is good optics. He's not easy on the eyes, he's annoying when he opens his mouth and he's just not trustworthy," said Watters.
"You need to look at impeachment as a junkie dancing on a street corner in his underwear," added Gutfeld, to a laughing panel. "It's their experience, it's not yours. It's what they're living but it's not yours. So, the media strategy is preventive intervention."
Gutfeld then suggested CNN was chiefly responsible for "trying to get the public so interested in this," seemingly agreeing with Trump's long-standing claim that the network presents "fake news."
"But it's not happening. Everyone knows it's going to be people whining about a phone call," said Gutfeld.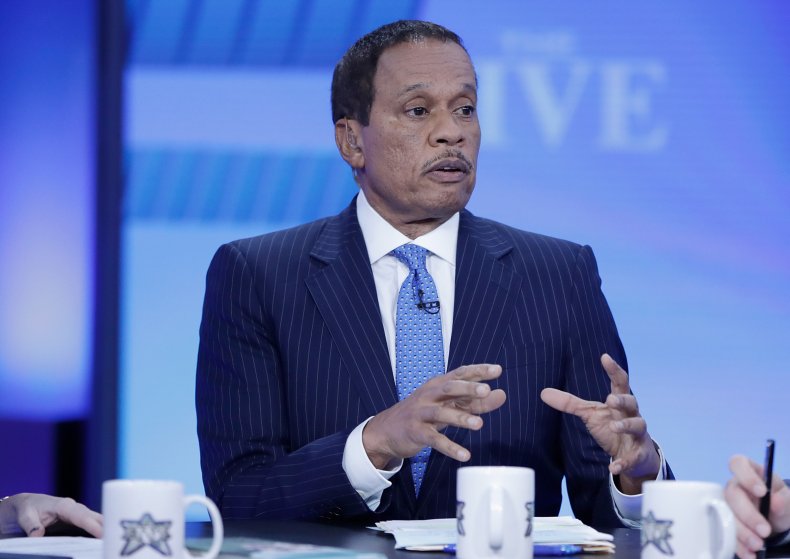 Williams disagreed, and recalled the impeachment of former President Richard Nixon, saying that over the course of a week, "the numbers just tumbled for President Nixon" when the public was presented with evidence. He accused the Trump administration of attempting to minimize the impeachment claims while distracting from unfavorable evidence, and suggested Gutfeld was doing the same thing.
"What we've got here is an effort, and Greg I think reflects this, which is to say to the American people, 'Forget about this. This is a bore. It's not interesting... this is not even Clinton and sex,'" said Williams.
"But this is much more important," he continued. "Right now, the Republican strategy is to say 'Yes, there's a mountain of evidence, but don't look! Look at the rainbows, look at the rainbows in every direction!' It's tribal blindness. Because if this was Obama, if this was Hillary Clinton, they would say, 'Hang him from the highest tree, this is treason.'"
Gutfeld interjected several times as Williams spoke, claiming the impeachment inquiry is "not real" and the evidence is all "opinion." When Williams presented his hypothetical scenario, a befuddled Gutfeld rhetorically asked, "We would hang Obama?"
Williams went on to suggest that Trump and the GOP are also attempting to discredit witnesses who had previously worked for Trump as "never Trumpers," which he believes is an absurd claim. He made clear that he believes all the claims are distractions.
"This is about impeaching President Trump," said Williams.