Fox News Hosts Claim, Without Evidence, Iran is Hiding 'Missiles and Weapons' at Cultural Sites: 'This is What Islamists Do'
Fox News co-hosts Pete Hegseth and Ainsley Earhardt suggested on Wednesday that President Donald Trump's previous threat to target cultural sites may be justified, as the locations could be used to hide weapons, without citing evidence for the claim.
In a Saturday tweet, Trump threatened Iran, saying that his administration had compiled a list of 52 targets in the country, including some that were important to the "Iranian culture." The remarks drew significant outcry, with regional analysts and some Democratic lawmakers arguing that such a strike would be "war crime" under international law. The president and his administration later walked back the threat, with Secretary of Defense Mark Esper asserting that the U.S. military "will follow the laws of armed conflict."
But Earhardt and Hegseth discussed the possibility on Wednesday morning on Fox & Friends, with Hegseth claiming that Iran is "of course" hiding weapons at cultural sites.
"What do you know about these cultural sites?" Earhardt asked Hegseth, who is also a senior political analyst for Fox News.
"We're not supposed to be hitting cultural sites, but I understand, and I've been hearing that we believe that the Iranians are hiding missiles and weapons in some of these cultural sites, churches and mosques," she said.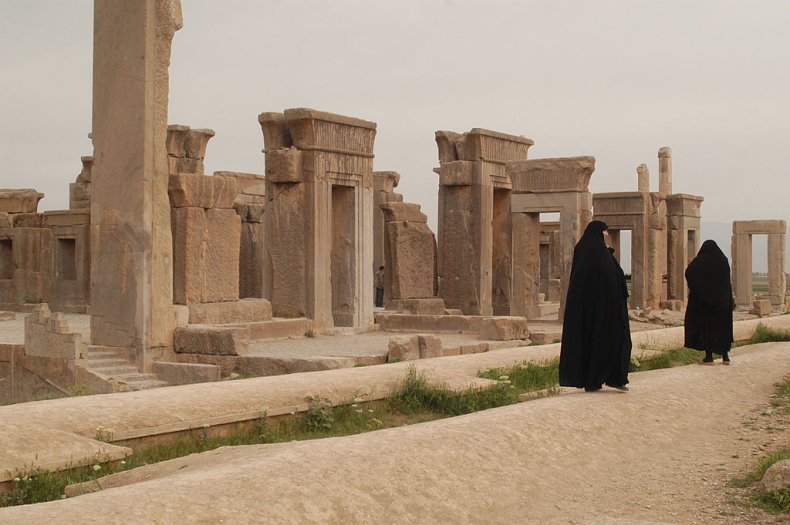 "Of course they do," Hegseth quickly responded. "This is what Islamists do. It's what they've done in the battlefield against folks like me and my entire generation," he argued. Hegseth previously served as an officer in the Army National Guard and spent time in Iraq.
"Human shields, using mosques, using hospitals, using schools. This is what our enemies do," he claimed. "That doesn't mean we go on and target cultural sites, but what it means is we are clear-eyed about how our enemies use the rules that we write against us."
Newsweek has reached out to Fox News to ask for the evidence or reporting that Hegseth and Earhardt used to back-up their claims.
Holly Dagres, a nonresident fellow at the Atlantic Council and editor of IranSource, told Newsweek that the claims were "utter nonsense."
"Iran's cultural sites are visited by hundreds of thousands of Iranians annually and even by the few westerners that visit Iran," Dagres noted. "Where would Iranian officials keep such weapons out of view?"
"And more importantly, what are these weapons that the Fox News anchors are referring to?" she continued. "This is merely Fox News trying to justify President Donald Trump's tweet about potentially bombing Iran's cultural sites, which is a war crime."
Dagres said that such remarks are "very disturbing" coming from a popular U.S medial outlet with "zero evidence."
Notably, Kellyanne Conway, a senior counselor to the president, made a similar suggestion to reporters on Monday when asked about Trump's threat to target cultural sites. She claimed that Iran "has many military sites, strategic sites, that you may cite that are also cultural sites." Pressed further at the time, she said she wasn't claiming that Iran was hiding military assets in cultural sites.
Trump's threat came after he ordered a military strike that took out top Iranian military commander Qassem Soleimani after he arrived in Iraq on Friday. Following Iran vowed to take "revenge," leading to the response from Trump. However, after Iran's military carried out missile strikes targeting U.S. bases in Iraq on Tuesday, Trump gave a speech Wednesday suggesting that the U.S. did not plan to retaliate.
Iranian Foreign Minister Javad Zarif tweeted prior to the president's speech, saying that his country did not plan to retaliate further and that the response to the U.S. strike had been "proportional."