Fox News Panel Accuses Bill Clinton of 'Leering' at Ariana Grande at Aretha Franklin Funeral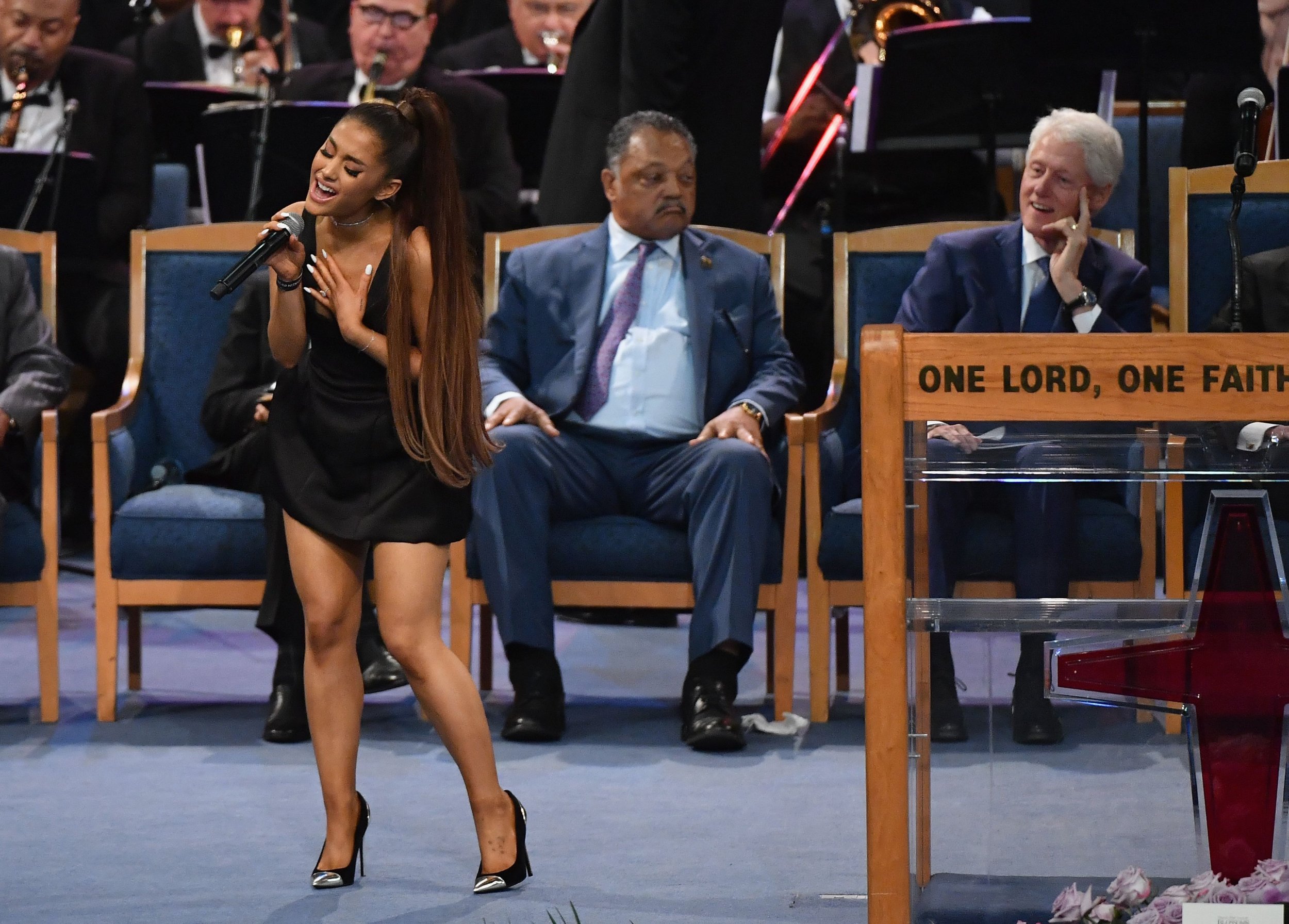 Ariana Grande's choice of attire at Aretha Franklin's funeral was criticized on Fox News Friday as a panel accused former President Bill Clinton of gawking at the singer, Mediaite reported Saturday.
A photo of Clinton, in which he seems to be looking at Grande's backside with his mouth open, surfaced shortly after the funeral. Grande, who was performing at the funeral, wore a short, black dress.
Fox News panelist Marie Harf commented she wished Grande picked a "longer" dress. "That is not appropriate to wear at a funeral, even Aretha Franklin's funeral," Harf stated. "She could have worn something a little longer with some sequins."
Martha MacCallum defended Grande's performance attire. "She didn't realize she was going to be standing like – it's like a bad version of American Idol," she said. "I thought she looked great. It's not her fault that those guys were leering at her."
Clinton sat beside Reverend Jesse Jackson. The pair notably whispered to each other during Grande's performance of "Natural Woman."
"These guys are staring at her from the back- I mean, look at these guys!" MacCallum pointed out.
Kelly Jane Torrance, deputy managing editor of The Weekly Standard, chimed in with a comment on Clinton's look. "The look on Bill Clinton's face is priceless," she said. "It's familiar but priceless."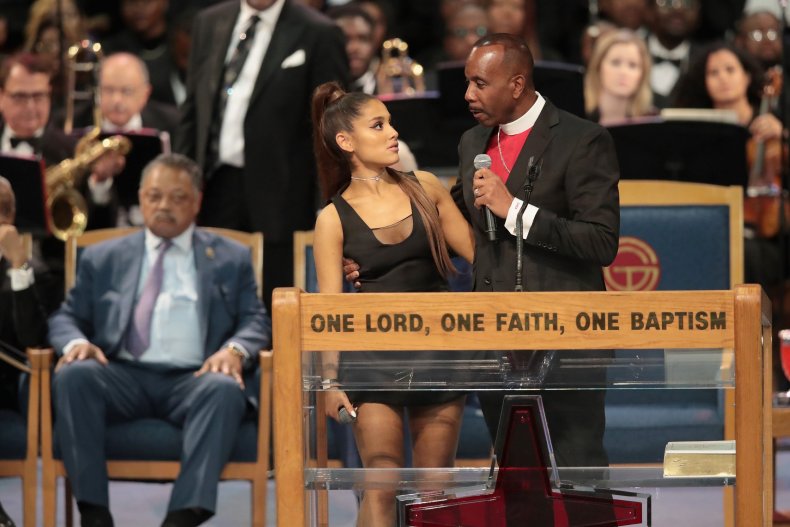 Viewers of Franklin's funeral service also noted an awkward encounter with pastor Charles H. Ellis III. Ellis was seen wrapping his arm around her when he touched her breast. Ellis apologized for the act he said was unintentional in an interview with the Associated Press Friday.
"It would never be my intention to touch any woman's breast. … I don't know I guess I put my arm around her," Ellis said. "Maybe I crossed the border, maybe I was too friendly or familiar but again, I apologize." The 60-year-old pastor noted hugging is a common form of affection at his church.
Twitter users were quick to show support for both incidents Grande endured.
"The fact that a woman was disrespected multiple times on live television by men who are in positions of power blows my mind," a user wrote. "Just imagine what happens behind closed doors. This was totally inappropriate, a short dress is NOT an invitation."
The post was followed by the hashtag #RespectAriana.
Clinton did not immediately respond to the allegations.