Fox News Hosts Defend Trump's Tweet Congratulating State of Kansas For Chiefs' Super Bowl Win: 'Kansas City is in Kansas and it is Also in Missouri'
Fox News host Steve Doocy and his co-hosts on Fox & Friends defended President Donald Trump after he congratulated the state of Kansas for winning the Super Bowl, when he actually should have congratulated Missouri.
The Kansas City Chiefs beat the San Francisco 49ers in the Super Bowl on Sunday evening, 31 to 20. While Kansas City shares its name with the state of Kansas, the city is actually the largest city in Missouri, but it is on the border of Kansas. Parts of its metropolitan area are located in Kansas, but the Kansas City Chiefs play in Missouri. Kansas City, Kansas, is a separate city.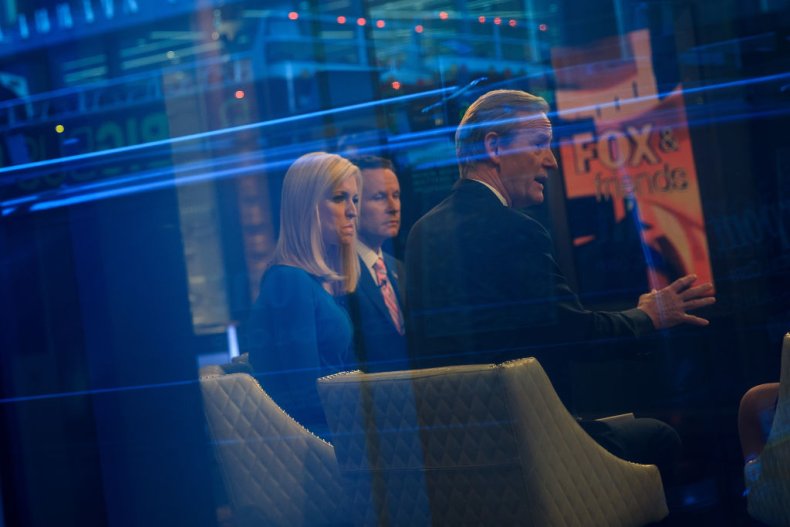 Trump's initial tweet said: "Congratulations to the Kansas City Chiefs on a great game, and a fantastic comeback, under immense pressure. You represented the Great State of Kansas and, in fact, the entire USA, so very well. Our Country is PROUD OF YOU!" It was later deleted and changed to say "the Great State of Missouri."
While many Americans mocked and criticized the president for his apparently less-than-perfect knowledge of geography, the hosts of Fox & Friends suggested that it was an easy mistake to make.
"Kansas City is in Kansas, and it is also in Missouri," Doocy noted. "It's like the difference between the New York Giants. I mean the Giants are—people call them the New York Giants, but they're in New Jersey."
"Right," co-host Ainsley Earhardt replied.
As Doocy noted, MetLife, the Giants' stadium, is located in East Rutherford, New Jersey, which is in the New York metropolitan area. The Giants officially began playing in New Jersey in 1976, but have kept New York in their name, as that was where they were originally from.
Many on Twitter were less forgiving of the president's mistake than the hosts on Fox & Friends. The hashtag #TrumpIsAnIdiot was one of the social media sites top trends on Monday morning.
"After Trump's tweet wrongly claimed the Kansas City Chiefs are from Kansas, Trump is now fixing the map of the USA with his famous sharpie," radio host and columnist Dean Obeidallah quipped in a tweet. He was referencing a previous incident—dubbed #Sharpiegate—when the trajectory of a hurricane appeared to have been adjusted on a map with a marker after Trump had inaccurately claimed it was heading to part of the country that it was not.
"Good morning! A lot going on today, but the ht #TrumpIsAnIdiot pretty much sums it up. #StoneColdIdiot is a formidable runner-up, though," writer and podcast host Holly Figueroa O'Reilly tweeted. "#ICYMI, for those confused: #KansasCityKansas is a place, but it is not the place that the #KCChiefs hail from. #KansasCityIsInMissouri"
Claire McCaskill, a former Democratic senator from Missouri, shared a screenshot of Trump's original tweet, writing: "It's Missouri you stone cold idiot."